In this blog post we explain a little more about versatile day bed for kids, and hopefully help answer some of your own questions along the way.
Children's day beds are a fabulous sleep and lounging solution for any child. Generally speaking, they can be dressed like a sofa for lounging and relaxation during the day, and then a bed by night.
Here's a little bit about why we love day beds so much ...
Day beds are versatile. – Where space in a room is at a premium, day beds are the ideal solution for gaining a little extra seating during the day, and an extra bed by night. Children love the 'grown up' living feel to them, and adults love the practicality. – Win, win!
They look sophisticated. – Perhaps the day bed needs to start off in your pre-schooler's bedroom, but then it'll be used in the study as extra seating, once the next baby is on the way? Day beds have a wonderfully multifunctional nature to them, and selecting one that would look just as at home in a grown up space as that of a child's will help see it through for many years to come.
We love the three high sides to them. Generally speaking, the day bed 'look' is created when the end boards are the same on both ends, and then the back rail is raised higher than on a regular single bed. This gives a lovely feeling of cosiness and comfort, so is just perfect for children who'd like that extra feeling of reassurance.
Here are some of our top tips when searching for a day bed for your child:
Look for day beds with hidden storage. – Some children's day beds come with a built in trundle drawer that slots right underneath the bed frame. Look for trundles that double up as sleepover beds, making the space underneath the bed all the more useful. – The ideal solution for a guest room!
Check the materials. Wooden day beds provide a warm, cosy feel for a kids bedroom. Selecting a hardwood framed day bed will mean that it's likely to be more safe, durable and stand the test of time. – This is particularly useful when shopping for potential guest room or office spaces too!
Look for day beds that are suitable for daily use. For kids' rooms, looking for day beds that are suitable for daily use is important, as many are designed for occasional usage. It will also come down to the type of mattress selected. – Mattresses with sprung interiors will help support a growing child far more than a foam style.
Check the size of the day bed. Often, day beds are supplied in a slightly smaller size, but by opting for a full size single bed, you are more likely to find bedding that fits the bed, and also avoid the child outgrowing the bed.
All of our Little Folks Furniture day beds for children are the same size as full size adult single beds. The frames are all made from ethically sourced, solid hardwoods, which means that they're built to last through the years, making them both practical and beautiful bedroom solutions for children.
Here's the low down on our newest additions to the range: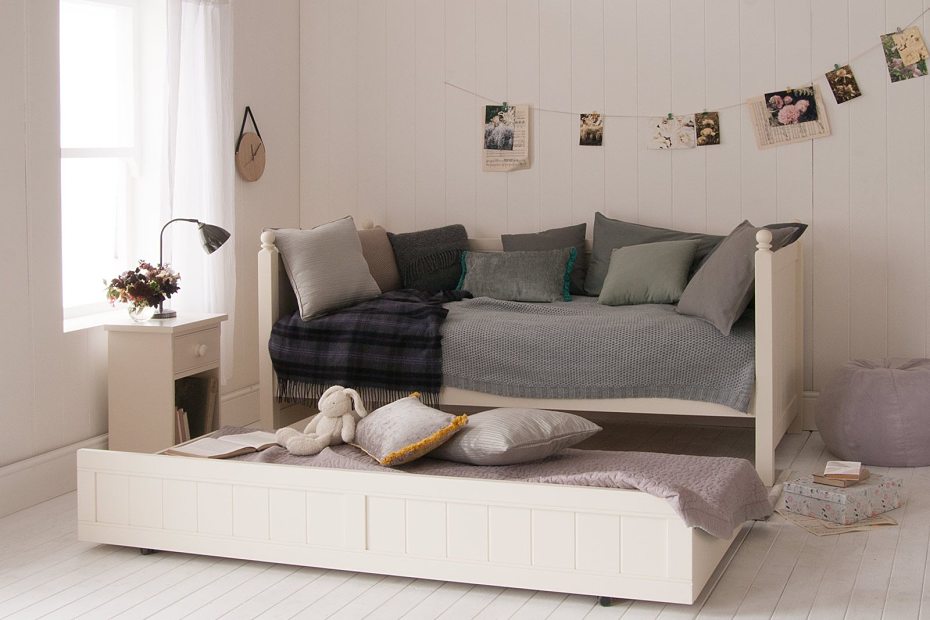 Crafted from solid hardwood frames, and sporting stately tongue and groove panelling with finials atop, the Fargo daybed is a traditional day bed, with pull out storage and sleepover trundle underneath. We think it would look gorgeous in a classic bedroom for a child, or even the guest room, as the roll out trundle underneath makes it into two spare beds for the price of one! Available in modern Farleigh Grey or soft Ivory White.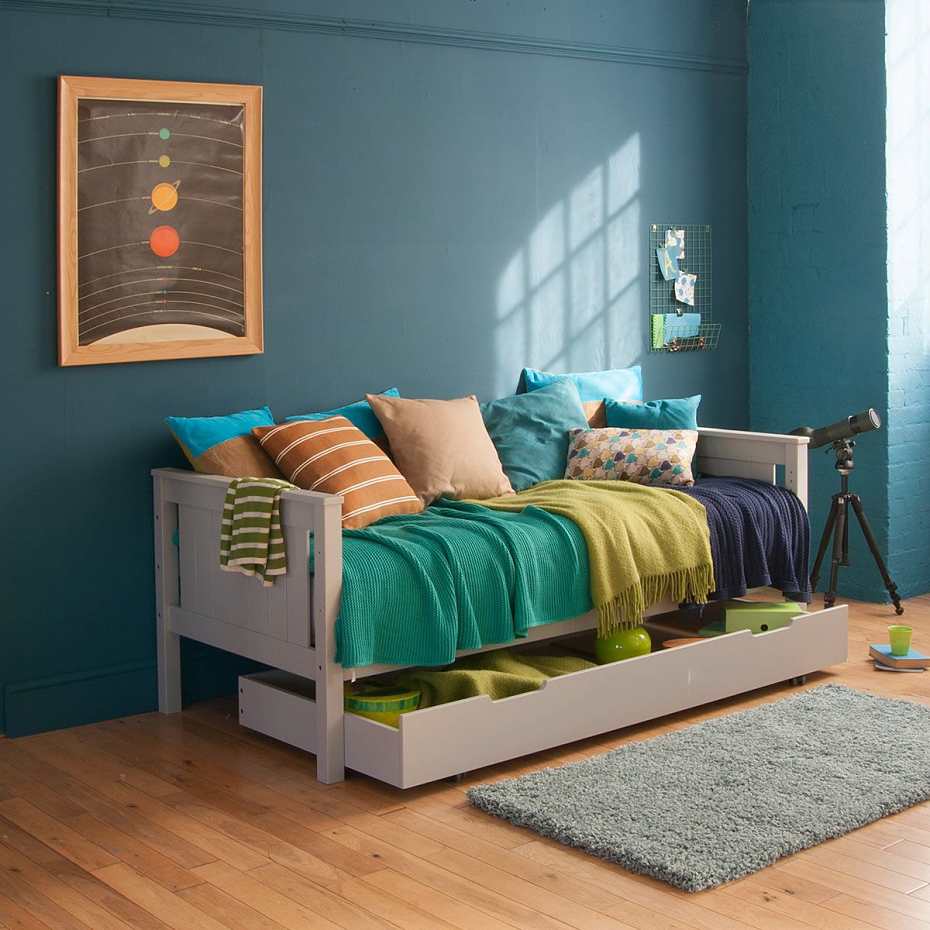 With a slightly slimmer bed frame, this modern style day bed frame is also made from solid hardwoods to ensure that it stands the test of time. A roll out trundle underneath provides extra sleeping or storage space. Available in Dove Grey or Pure White.
So there we have it; our favourite things about Day Beds!
If you'd like to chat some more about all things day beds for kids, speak to one of our designers on: 01985 300588.
Happy browsing! x