When planning your child's bedroom, it's a good idea to plan for longevity and with versatility in mind.
So, buying one, high quality split down bunk bed instead of multiple, cheap soft wood/pine replacement bunks over the years, will not only help save money in the long run, but it also helps look after the planet too.
What is a convertible bunk bed?
Not all bunk beds split down into two beds, and if they do, not all are full size singles, so it's worth doing your research and thinking ahead to what your family needs may be in a few years' time...
Convertible bunk beds enable parents to break the bunk bed apart at any stage, which allows families the freedom and flexibility to have full size, full specification solid hardwood single beds in different rooms if required. This means that split down bunks will work perfectly for the teenager phase, and also for when the young ones have flown the nest, when perhaps a guest room bed is needed instead. - Essentially, a convertible bunk bed is a multifunctional bed that provides multiple sleeping solutions for different life phases.
Plenty of room for parents to snuggle up for story time
When researching detachable bunks, check that they are full size single beds. This helps both in terms of finding appropriate sized bedding, but also ensures that there's space for parents to snuggle up for all-important story time too. It also goes without saying that if the beds are full size singles, they can be used as adult single beds later on down the line too.
From twin single beds to bunk bed:
Most parents think of converting their child's bunk bed into single beds after it has been set up and used in a traditional bunk bed format, however we are speaking to more and more customers who instead purchase a bunk bed with the intention of starting off with two single beds initially. Then, after a few years they plan on rebuilding the bed as a traditional bunk bed with a ladder. This option works really well when you have two younger siblings, who are just a little small for a traditional bunk bed, but you know that you want to invest in top quality beds from the word go. It streamlines the decision making process, and prevents you from having to re-buy beds for the various stages.
Top tips when researching a convertible bunk bed that lasts
So how do you know which is the right detachable bunk for your family? After speaking to hundreds of customers, and assessing our own range of dividing bunk beds, we've pulled together some of the most important aspects when researching convertible bunks:
- Look for chunky, solid hardwood bunk bed frames. Solid hardwood bunks, such as bunk beds made from Beech or Oak, are far sturdier, dependable and much more likely to last long past the sharing phase in comparison to softwood bunk beds made from knotty timber such as Pine.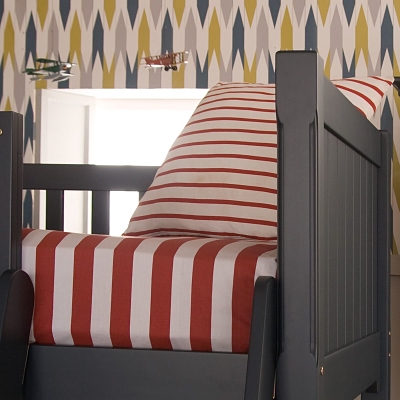 - If versatility is key, ensure that the bunk bed you select has the ability to assemble the ladder at either end of the bunk. This will provide you with more options when it comes to laying out their bedroom.
- Opt for a safety (or high bed) mattress for your top bunk. This ensures that the child will be sleeping safely below the limit of the side rail, to help prevent any falls.
- We'd always recommend checking that the bunk bed you order adheres to current high bed safety standards (BS EN 747) and has been through rigorous safety testing. - Feel confident to ask the manufacturer if you are unsure.
- If storage is an issue, we'd recommend looking at bunk beds that include built in storage underneath. Many bunk beds contain roll away storage drawers to help keep toys neat and tidy.
- Bunk beds with roll out sleepover beds underneath are great options for compact children's bedrooms. Trundle beds are brilliant space saving opportunities, and provide an extra bed for guests (or parents!) as and when the need arises.
- Mattress options. When it comes to investing in quality bunk beds, it's a good idea to also consider a high specification mattress for both safety and comfort. Children move around a lot in their sleep and therefore need supportive mattresses to ensure optimum comfort, and so the ability to choose your mattress type is, in our book, always a good thing. Look for sprung mattresses to ensure comfort and support.
If you've decided that a convertible bunk bed may be just the option for your family, take a look at our full collection of split down bunk beds here, all available with trundles, and all crafted from solid hardwoods as standard.
Happy researching! x