Otherwise known as Loft beds, Bunk beds with desks, Bunk beds with futons, or Bunk beds with 'stuff underneath' (You may have noticed a pattern forming here), High sleeper beds are without a doubt, one of the most practical solutions for the child who needs their bedroom to be more than just that. - Generally speaking, the clue is in the name, so high sleeper beds are effectively bunk beds but without the lower bunk. Instead of the bottom bunk bed, you can find all manner of wonderful furniture pieces that slot in underneath. Sometimes these pieces may be fixed, but more commonly they're moveable and interchangeable.
Why Choose a High Sleeper bed?
High sleeper beds are also commonly known as loft bunk beds, or bunk beds with desks, because they do in fact resemble a top bunk (with lots of other stuff underneath!) The difference between a High sleeper bed and a Bunk bed, is all the nifty extras you can get to slot neatly underneath the top bunk. High sleeper beds are the ideal space saving solution for those who'd like a bed that also functions as a living space underneath. These can include all sorts of items, such as desks, chairs, daybeds, and storage. With just the footprint of a full size single bed, opting for a high sleeper bed means that the rest of their room can be used for play!
Here at Little Folks Furniture, high sleeper beds are a design that we specialise in, and with over 25 years' experience in designing them, we like to think we know a thing or two about how to create the best for your child.
Our Fargo high sleeper range is the benchmark for high sleeper loft beds, where usefulness, design and durability are expertly crafted together. The bed frames and rails are solid hardwoods with mortice and tenon jointing for strength - and for a superior painted finish.
Our Top Tips on choosing a High Sleeper bed:
ROCK SOLID - Selecting a high quality high sleeper loft bed with a sturdy frame made from hard woods (responsibly sourced of course) means that it will be more likely to stand the test of time, so it's always a good idea to check what materials the high sleeper bed is made from. Pine high sleeper beds tend to be cheaper, and the reason for this is because pine is a soft, knotty wood, and therefore nowhere near as strong and durable as hard woods such as Oak, Ash, Beech and Poplar.
SAFETY – The safety standards for High Sleeper Beds are some of the most rigorous around and unfortunately a lot of claims are made about beds meeting the standards when they probably do not. We'd always advise asking the retailer about the product that you are looking to buy. Asking where they've been made, whether they've been tested, and even who designed them, will equip you with lots of the knowledge you need to make an informed choice for the safety of your child.
Special tip – you will probably need a special, thinner mattress for the loft bed. If you use a thick mattress then it means the "guard rails" that are there to stop the child rolling out of the bed will not be as effective. So-called "high bed" mattresses are normally about 6" or 15cm thick.
We recommend high sleeper loft bunks for ages 6+ which is as stated in the safety standards. As parents you will know your child best and whether they will feel safe and comfortable tucked up in the top. The likelihood though, is that they'll love sleeping amongst the stars!
PRACTICALITY. What do you need their bed to do? Make a wish list. – Work out what you need for your child's room and prioritise it. People more often than not, buy high sleeper beds because of their space saving nature, so what to do with all that room?! - Do they need a desk to create a special study space? Perhaps some storage for lots toys, trinkets and tomes? Or maybe a pull out futon or day bed for friends, cousins or Mum and Dad during a tough night?
Smart looking beds that are cleverly designed, and using high quality hardwood bed frames, are what we at little Folks Furniture are known for, and our hero high sleeper range, the Fargo, is a bed range that we're really rather proud of. The Fargo high sleeper bed is a modern design that can be bought in a range of our signature colours, from our stylish Farleigh Grey or soft Ivory White, to our deep Painswick Blue. There are a wide range of varieties available. Click on the name to discover more:
For those who like the best of both:
The Fargo High Sleeper with Corner Desk and Futon A futon on which to lounge, as well as a roomy corner desk for studying stints!
The Fargo High Sleeper with Storage Desk and Futon A futon on which to lounge, plus a storage desk, for stashing all of their trinkets.
For the big thinkers:
The Fargo High Sleeper with Full Length Desk A serious desk for large school projects, planning world domination, or designing their latest gadget!
For the sleepover fan club: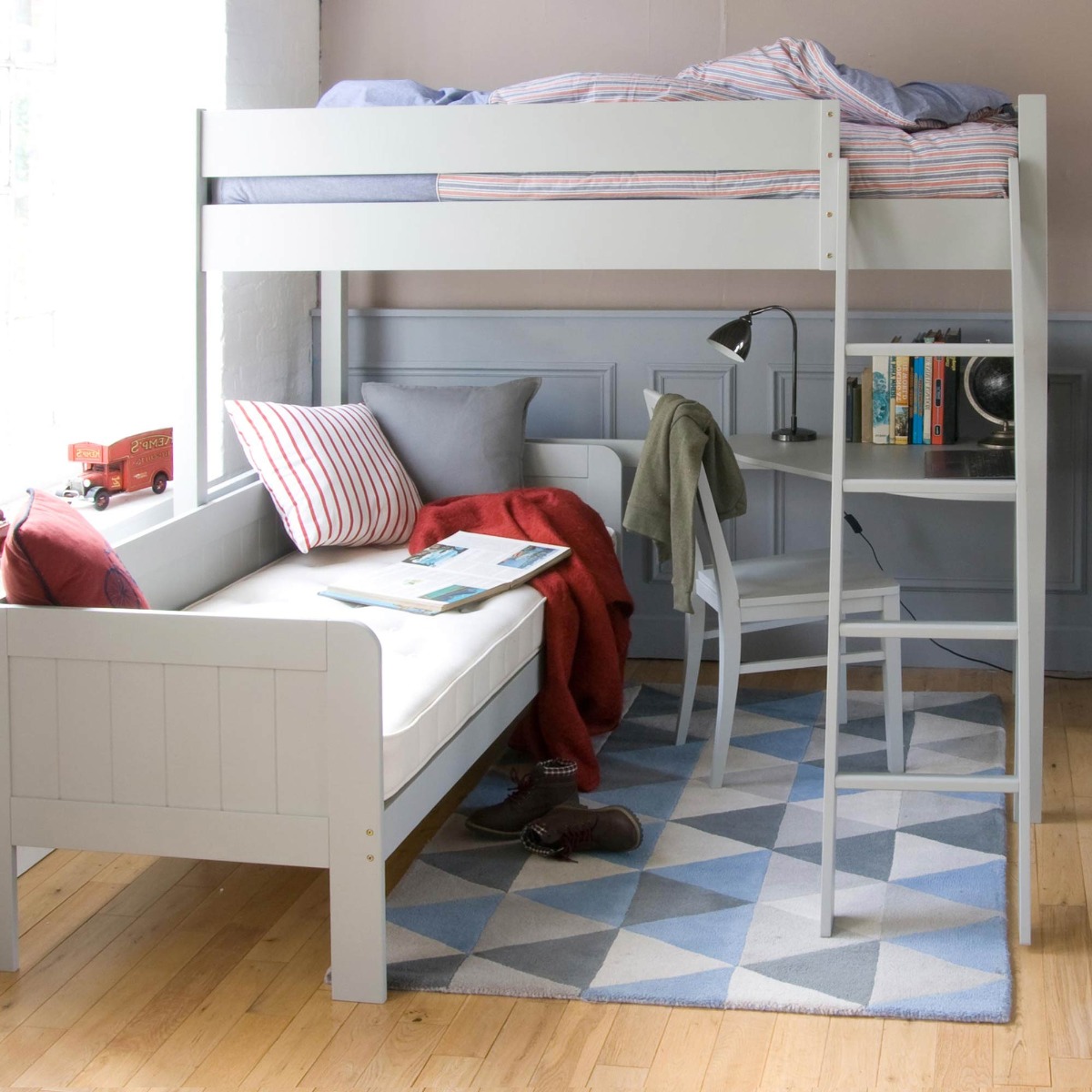 The Fargo High Sleeper with Sofabed and Corner Desk A sleepover- friendly sofa bed that can be configured any which way under the bed, or even in another room, plus a nifty corner desk for late night scribbling!
The Fargo High Sleeper with Sofabed and Storage Desk A sleepover-friendly sofa bed that can be configured any which way under the bed, or even in another room, plus a handy storage desk for planning world domination!
For the star-fishers:
Fargo high sleeper bed with small double bed A small double bed that slides in underneath the upper bunk. The bed can be positioned under the bunk bed, or anywhere else for that matter!
If you'd love to know more about the benefits of our high sleeper beds, give us a call on 01985 300588 and speak first hand with one of our expert designers... We love to help!