We're sure that this will seem like a familiar scenario;
You spend hours sorting toys, hanging clothes and making beds, only for it to turn into a weekend or holiday, and for everything to be out again en masse within 10 seconds flat?!
Or, maybe there's just never quite enough storage space for all those toys (that appear to multiply on an almost daily basis!)
Mess can have quite an impact on our mood and emotional wellbeing. – there's certainly some truth in the popular saying of 'tidy space, tidy mind', and it's not only adults who can be affected by their environment. Having a clutter-free, orderly bedroom can really help engage little minds ready for sleep or study, and so it's a really important aspect to keeping their room fit for purpose.
So, how can you keep a child's room on the straight and narrow?
Well, in this blog post we share with you a few tricks we've discovered that can come in handy from time to time when it comes to clobbering the clutter and keeping on top of their rooms.
Think about the room holistically
So what does this really mean?
More and more, children's rooms are more than bedrooms. They're study spaces and chill out zones, as well as sleep stations. Whilst this multifunctional aspect is great for space saving and also for giving them independence and their very own place to discover and explore, it can also mean that all manner of things can be brought into one room, and often simultaneously. – From notebooks and stationery, to clothes and toys. This of course has the great ability to cause all manner of chaos, but as long as a child's room is thought about as a whole from the get-go, then having a multipurpose room for a child can be endlessly beneficial.
What are the room objectives?
Start with a list; what do you need from the room? Is it simply a place to sleep? Or maybe it's for sleeping and studying? Perhaps it's a shared sleeping and play space? Whatever function you need from the room needs to go onto the list, and preferably in priority order.
Zone it up!
Using your list of functions, create different zones in the room. So for example, one for sleeping, reading and lounging, another for getting dressed, and another for hobbies and school work or toys. You can simply deploy an imaginary line technique, whereby you aim to keep the activities in separate parts of the room, or you could go one step further and add paint colour blocks to delineate the separate areas to encourage tidying and organising!
Each zone will have certain requirements, and the idea of prioritising the list of objectives is so that you provide greater space for the most important aspect.
For zone 1 (sleep, lounging and reading), they'll need a bed to sleep in and/or a chill out seat, beanbag or bed. Things like futon chair-beds can provide the best of both worlds as they're also super handy for sleepovers. If night time reading is their thing, they'll need some form of bookshelf. These nifty hook on shelves are fabulous for just popping over the top rail of a bunk bed, and make great use of space.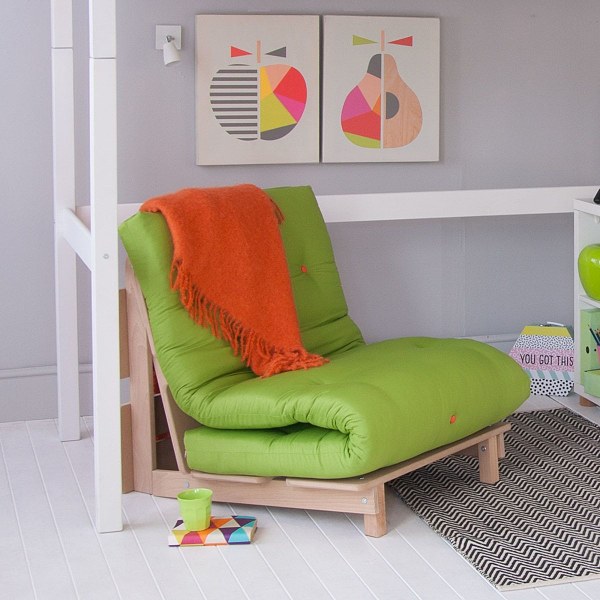 For zone 2 (getting dressed), it's a good idea to have storage such as a chest of drawers or wardrobe. Older children may also like a mirror. If space comes at a premium, a full length mirror can be hidden inside a wardrobe door.
And for zone 3, a sturdy desk and chair would be handy for homework stints, and serious hobbies. Storage for toys is also useful. Tall storage that travels up the wall, or giant underbed storage drawers are both handy methods of toy storage.
Raise it up
For compact rooms that need to work hard at multifunctioning, multipurpose beds such as high sleepers, mid sleepers and cabin beds can all help save space and zone a room. They work by elevating the sleeping platform, and creating space underneath for storage furniture, extra beds and even play dens too.
Clutter-free clothes storage
The days of the floor-drobe are numbered. – Here's how to make it a thing of the past:
To avoid piles of clothes being strewn from a wardrobe or drawers in a bid to find something to wear, one idea that we love is to hang a whole outfit together on one hanger when putting away the laundry. This means that a child only has to lift out one hanger and they have a ready put-together clothing combination. Not only does this save time, but it also saves the floor a little too.
Weeding out outgrown clothes regularly, (once every 6 weeks is usually often enough), it means that you keep on top of things, and also save on storage space. There are usually a few local second hand clothing groups (Facebook is a great place to start), or of course you can always donate to clothing banks or charity shops.
Wonderful wardrobes
When looking for wardrobes, we think combination robes are the way forward. Having a combination of both roomy drawers for folded garments, and a rail for hanging smarter attire means that you may not need a separate chest of drawers, especially if you opt for a bedside cabinet with drawers in too. Our Fargo combination wardrobe has the best of both options, with a full width hanging rail and with roomy drawers underneath too.
Totally toys
Toy storage is always a bit of a head scratcher. In fact, it can be almost impossible to find storage that works for every different toy type out there. But here are a few tips that we've discovered along the way to help keep their rooms ship-shape:
Rotate – To avoid boredom and also dpendency on certain toys, set up a rotation system whereby some toys are in storage and others are out to play with. By doing this you ensure that everything is played with, that the child's attention is held and also it's easier to work out what they've outgrown (and 'accidentally lose'!)
Lose the outer packaging. – Often the box that the toy comes in is of little use once the toy is assembled. Clear boxes with lids and totes can be far more useful storage, and for jigsaw puzzles, we love the plastic envelopes which can be stored filing-cabinet style. If you want to keep the picture to follow, then take a photo and print it out smaller (or just cut it out of the lid). Getting rid of boxes helps save space and also keeps toys more secure in better containers.
Group types together. – It doesn't matter if you're mixing block types, or zoo animals with farm animals, or even different cars together. As long as there's some type of categorisation which makes it easy for everyone to tidy away, mixing toys up a little actually encourages creative play and imagination.
So there you have it; our little guide to creating a clutter-free child's room this spring!
... Happy tidying :)