Well, school's out, and our summer sale is now in full swing. We've got lots of lovely offers to help you finish off your child's bedroom and prepare them for the next school year, so why not have a browse and treat yourselves (and them) to a little room revamp?
Perhaps you're going to be having a clear out over the summer holidays? - Good storage is a must!
Kids bedroom storage comes in many forms, and in our summer sale we have a great special offer bundle of 25% off our Edit bed and chest of drawers. The Edit range has lovely, modern Scandinavian styling, balanced with a retro feel. The roomy chest of drawers will house plenty of holiday souveniers, as well as clothes and toys, and has metal ball bearing drawer runners for smooth usage. – Not a wobble in sight! All of this for £337.50.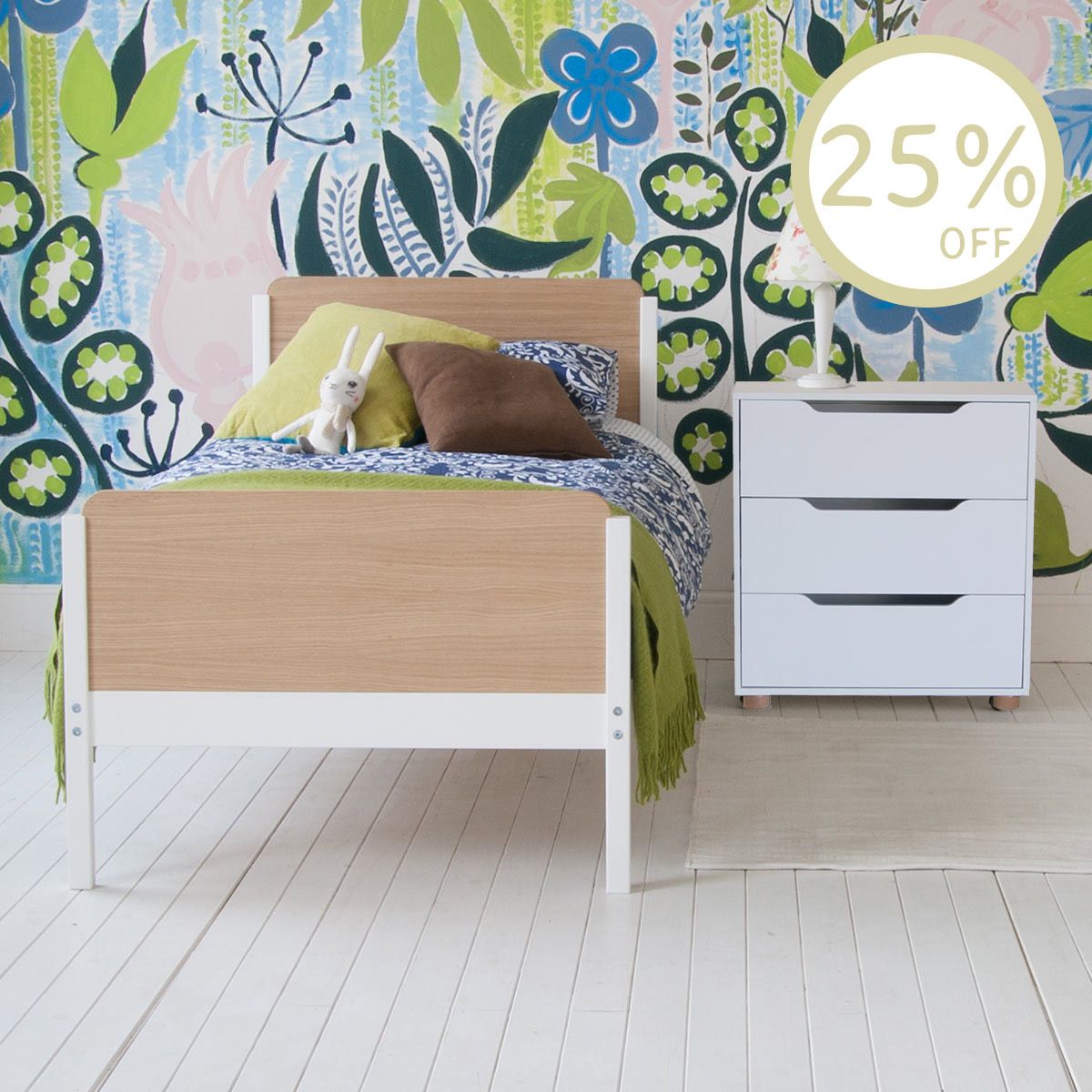 Need extra 'quick fix' storage in your child's bedroom?
For a neat little storage cupboard where you really can hide it all away, take a look at our neat little storage bookcase with 2 modern oak effect cupboard doors. At just £140, we reckon it's a bit of a storage style steal, and the other two cubby holes neatly store book collections or cuddly toys.
For an open cupboard, suitable for toys, books or clothes, take a look at our EDIT storage bookcase for £127.50 in our Sale. With Scandi style feet in solid beech, it has a really retro feel that'll look the part in any kids' modern bedroom.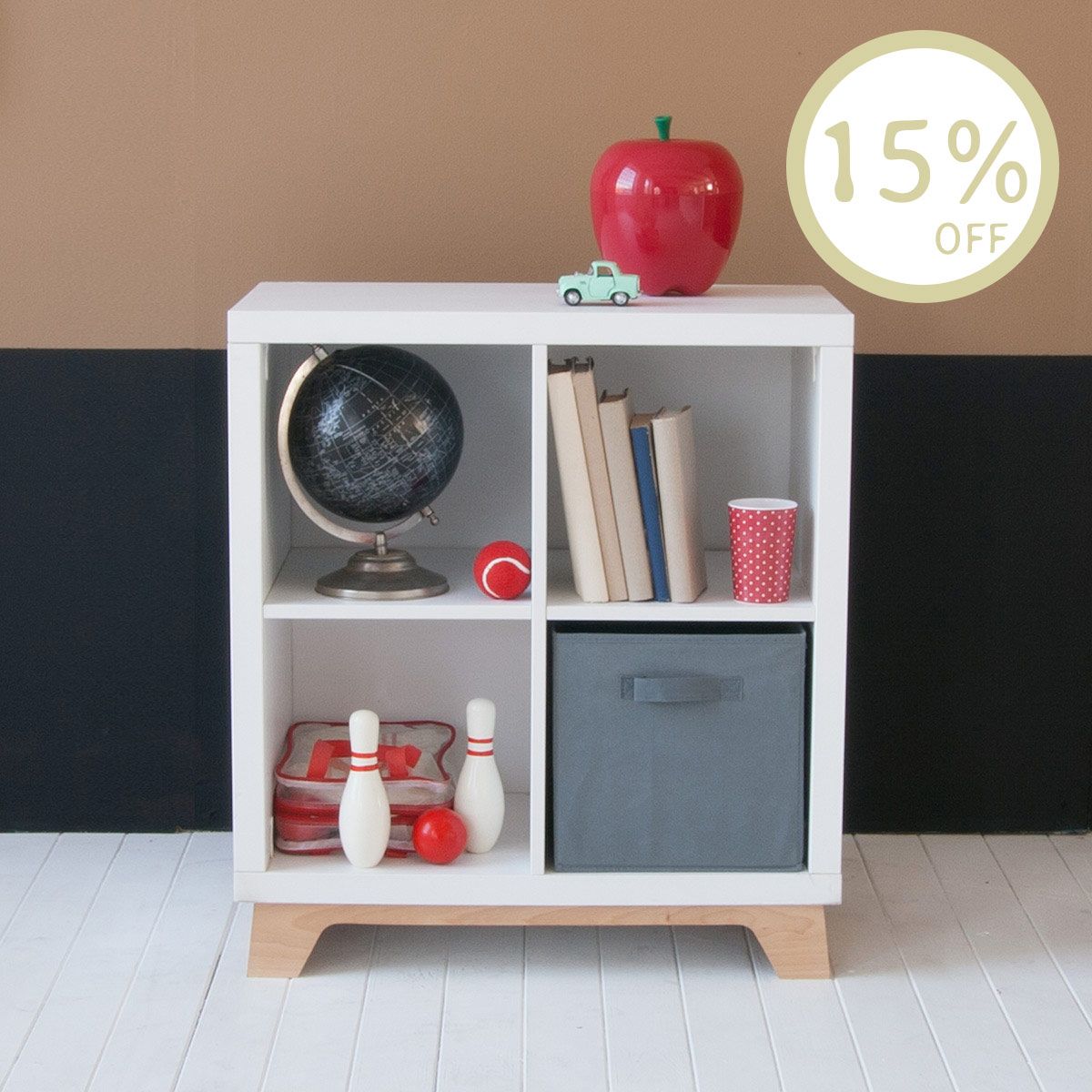 Maybe you have a toddler who'd love their very own chair, or perhaps you're looking for a high quality gift for a special 2 year old?
We stock a range of very cute award winning Frrrrniture toddler play chairs, all built with wood and featuring a fun design. With 30% off at the moment at £52.50, why not bag yourself a bargain?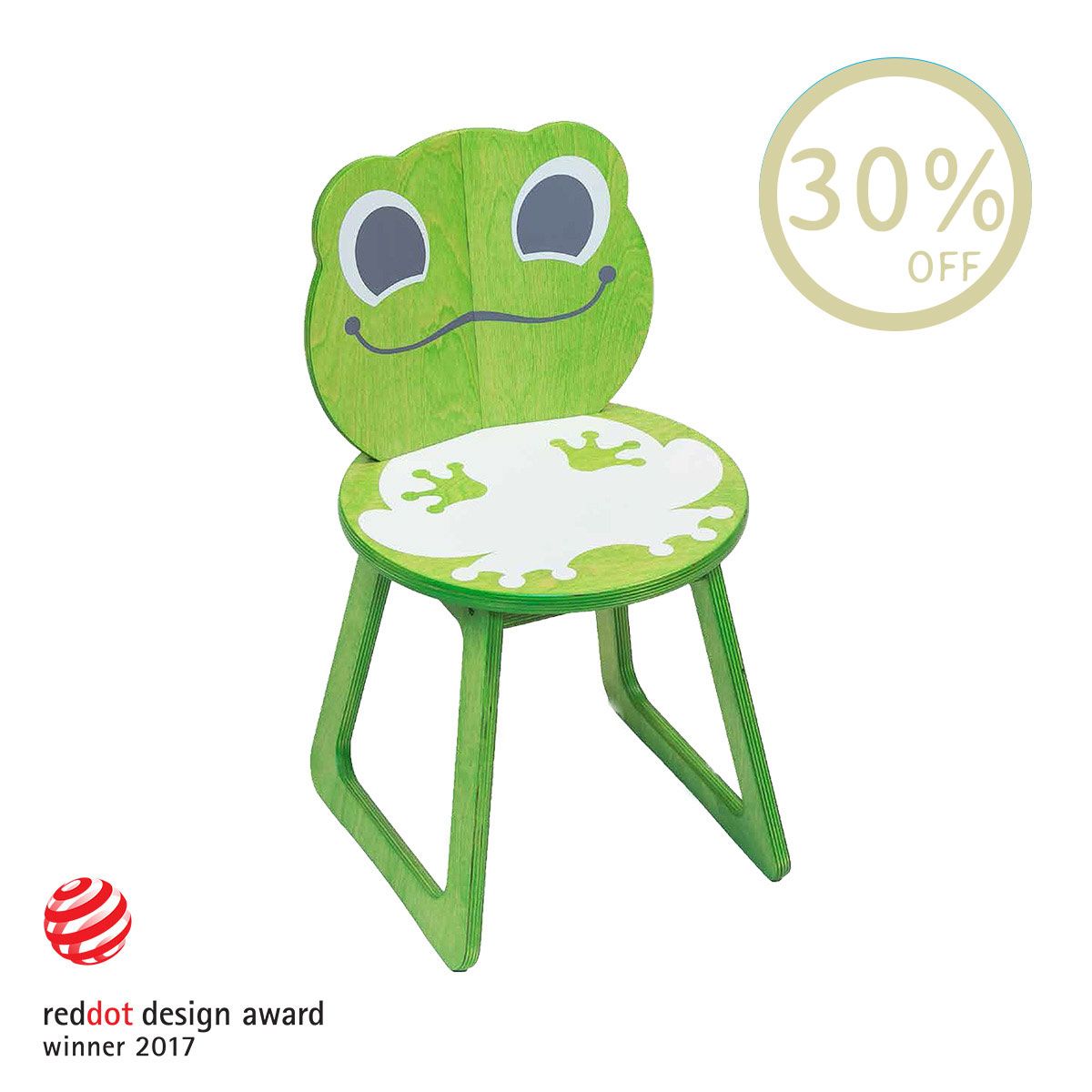 Perhaps your child's room is on the small side, and you need to make best use of their space?
For inconspicuous storage that can make use of all that space under their bed, check out our special Sale bundle offering of our popular EDIT single bed bundle, with an underbed storage trundle AND a nifty chest of drawers, too, for £513.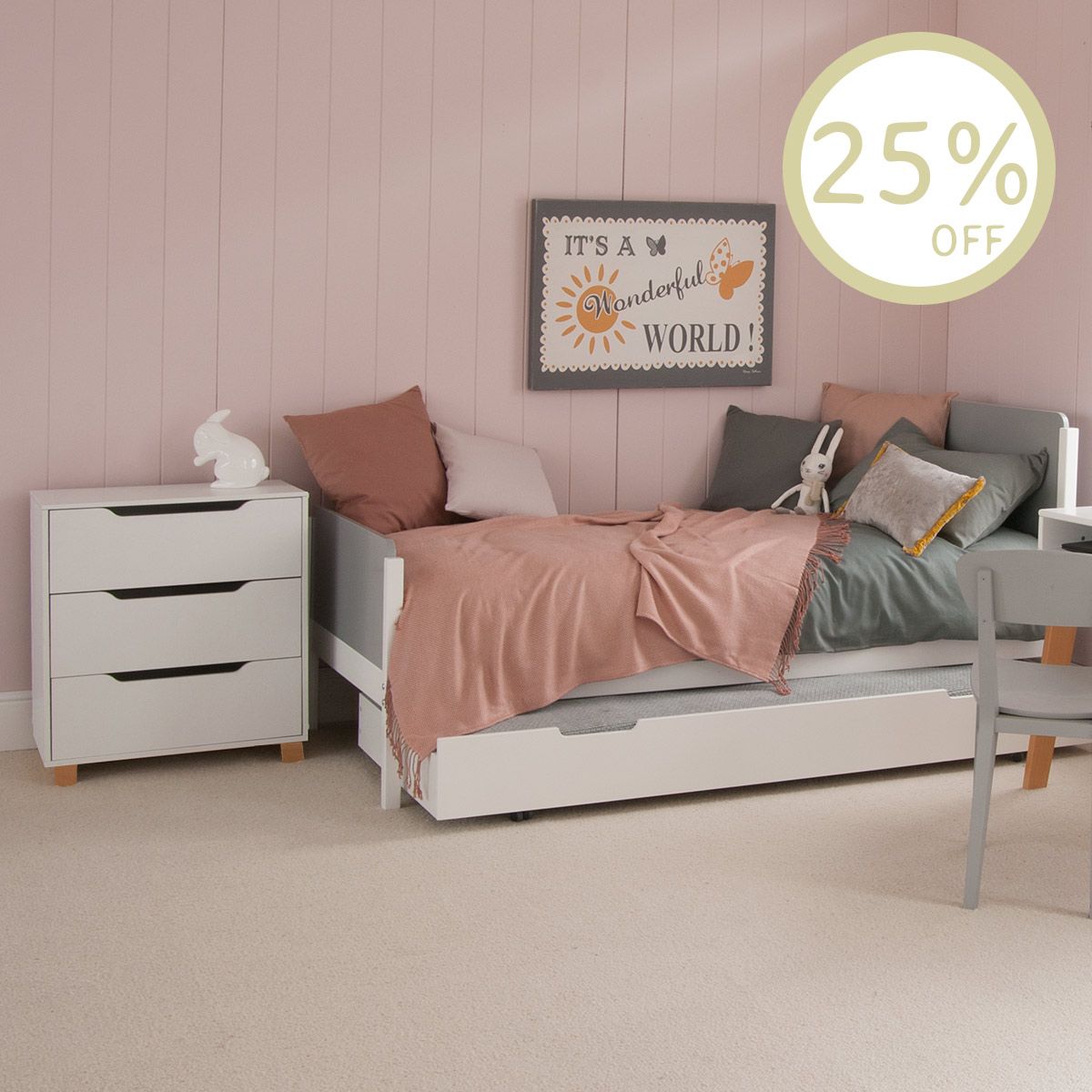 Do you have a child who'll be in need of a homework desk for next school year?
We can help you get organised, with a fantastic range of desks by Little Folks Furniture, that are all in the Sale.
For the modernists: Our two-tone EDIT storage desk with solid beech Scandi style legs, and hidden storage cubby holes could be just the answer at £165.75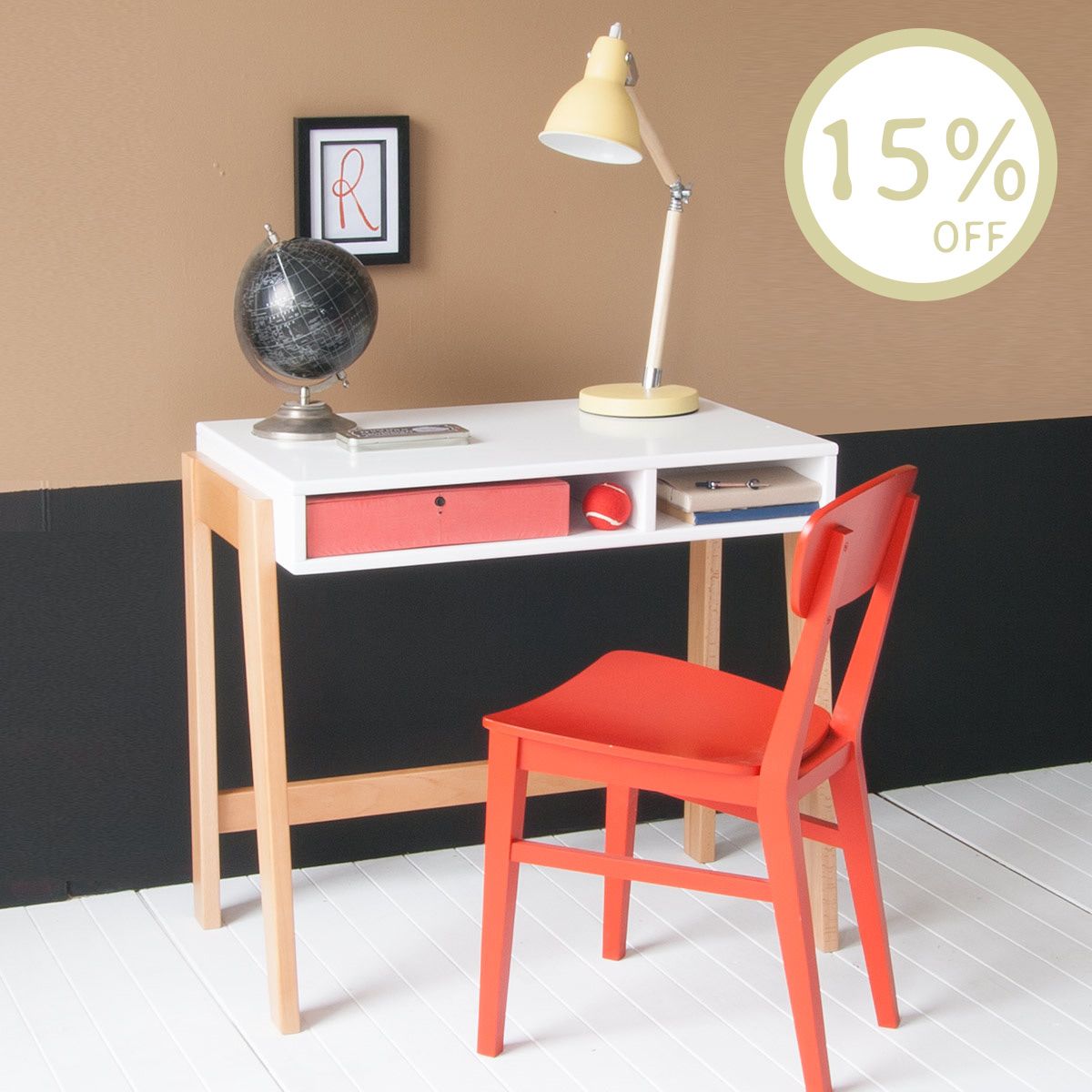 For the traditionalists: Take a look at our Fargo study desk, available in our signature range of durable paint finishes. This clever desk not only has a large table top, but also a cubby hole which is ideal for storing study notes, homework diaries and tablets, plus, there's also a hidden storage shelf at the bottom for extra study accessories! For those who love a coordinated look, we've thrown our trusty ladderback chair in to complete the whole look for a smart study solution. Fargo desk and chair sale price: £324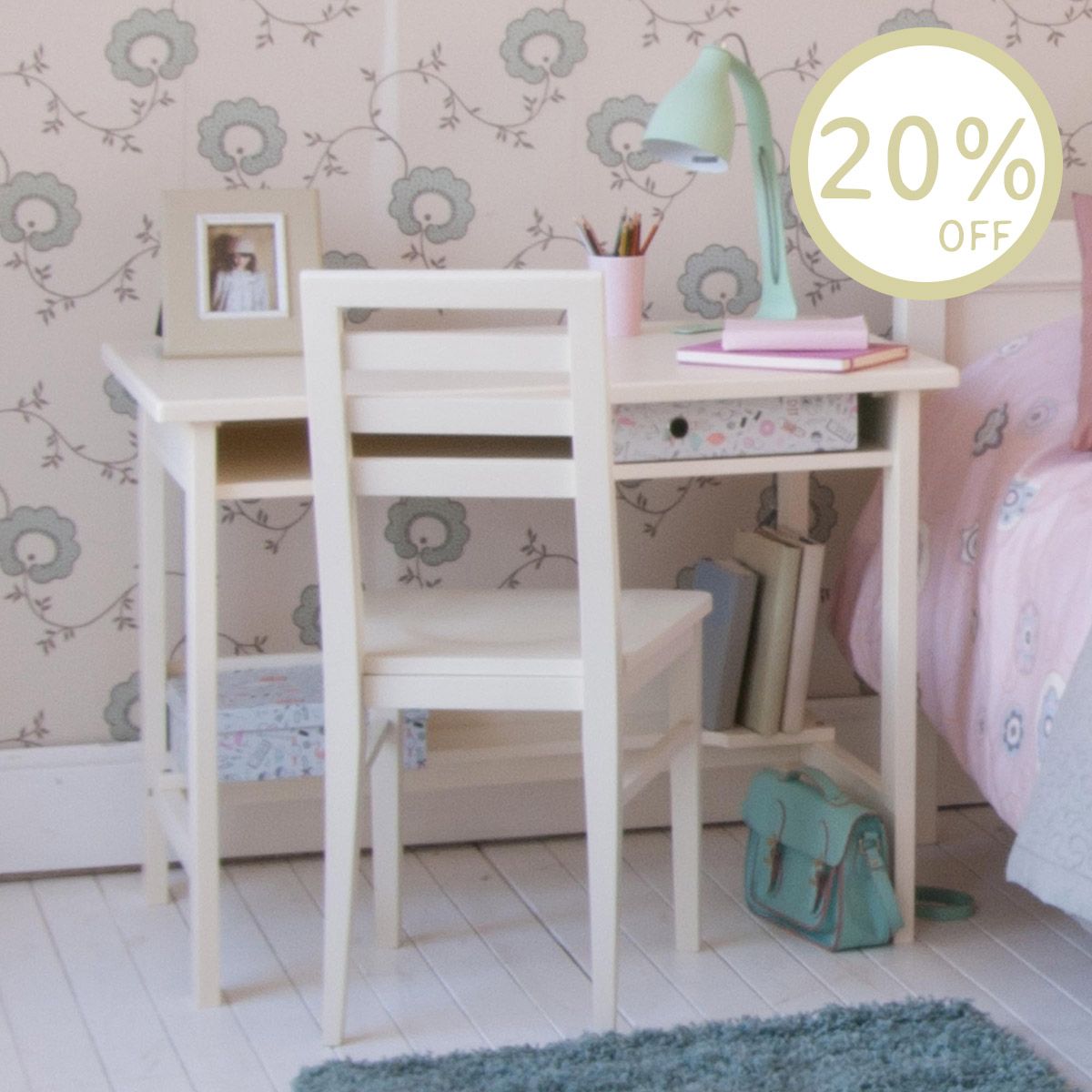 Lots of summer sleepovers planned, but nowhere to put the extra guests?
Perhaps it's time to up-level their bedroom? A super-duper space saving solution with added sleepover beds as well as study desk for serious times, like our range of special offer Fargo high sleeper beds, could be just the ticket.
For a roll out sleepover futon bed, the perfect pad to chill out on by day, just unfold and add some bedding, et voila, you have a perfect fast and fuss-free sleepover solution by night. Why not make use of the built in corner desk as the ideal station for a laptop, and download some of their favourite films? - Just add popcorn, and they're ready to go! Our Fargo high sleeper loft bed with corner desk and fold out futon has a whopping £150 off in our summer sale, making it just £845 for a bunk bed, desk and sleepover solution, all in one.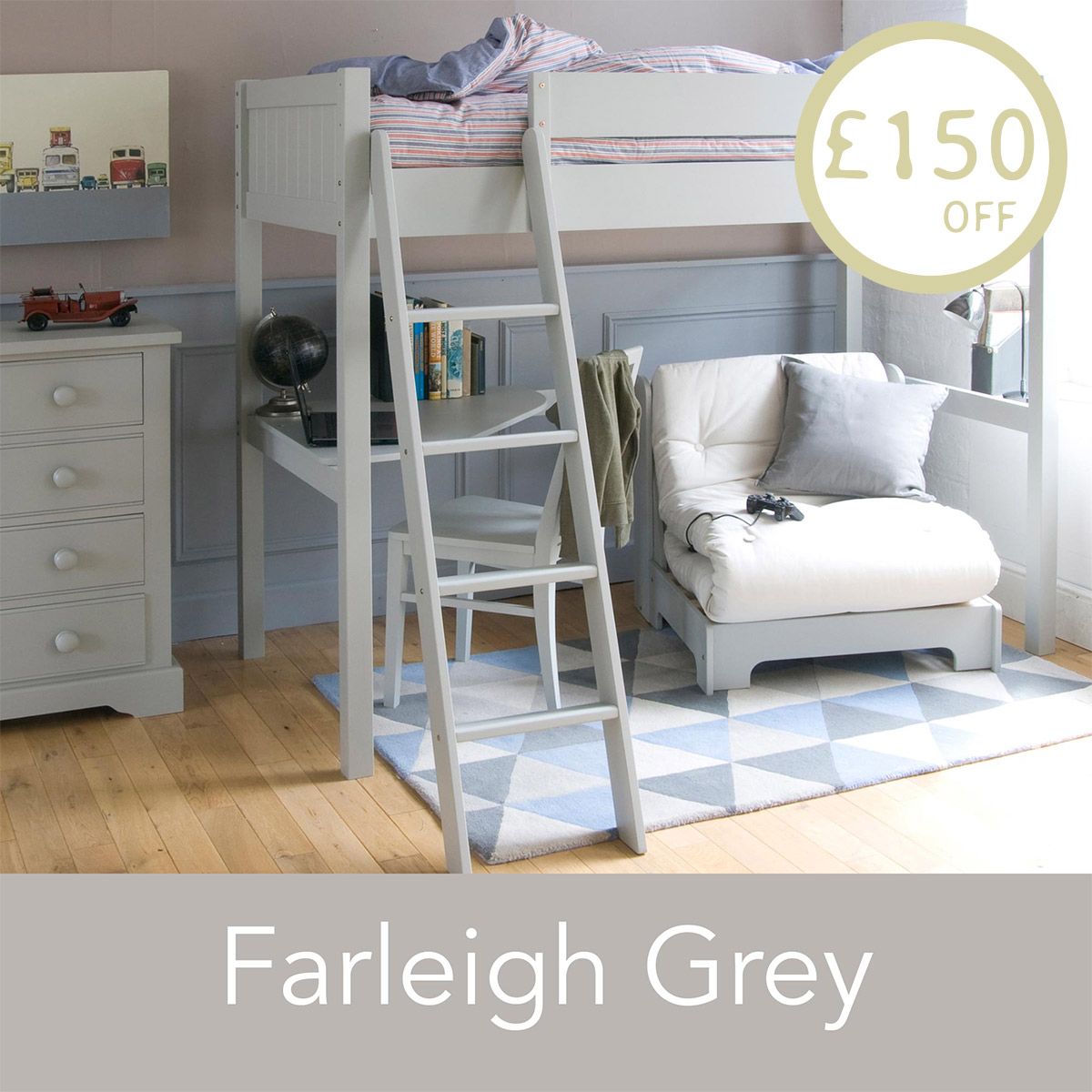 If you're thinking of future-proofing your child's bedroom and need a desk with extra storage for books and files as well as somewhere for friends to sleepover, then take a look at out Fargo high sleeper loft bed which features the same top bunk bed, fold out sleepover futon chair bed plus a storage desk. Currently with £150 off in our summer sale, bag yourselves some extra storage (and save the dining table from maths books and holiday projects!) for just £945. The bed comes in our signature range of durable paint finishes and is crafted with a solid beech frame and traditional mortice and tenon jointing; just for your own peace of mind!
If lots of art work and study time is on the cards during the summer holidays, or even if they are moving into a year of serious study, it's a great time to think ahead about pratical homework stations for them, to help them feel inspired.
Our Fargo loft bed with a full length desk underneath has a massive £150 off in our summer sale. Take a look here.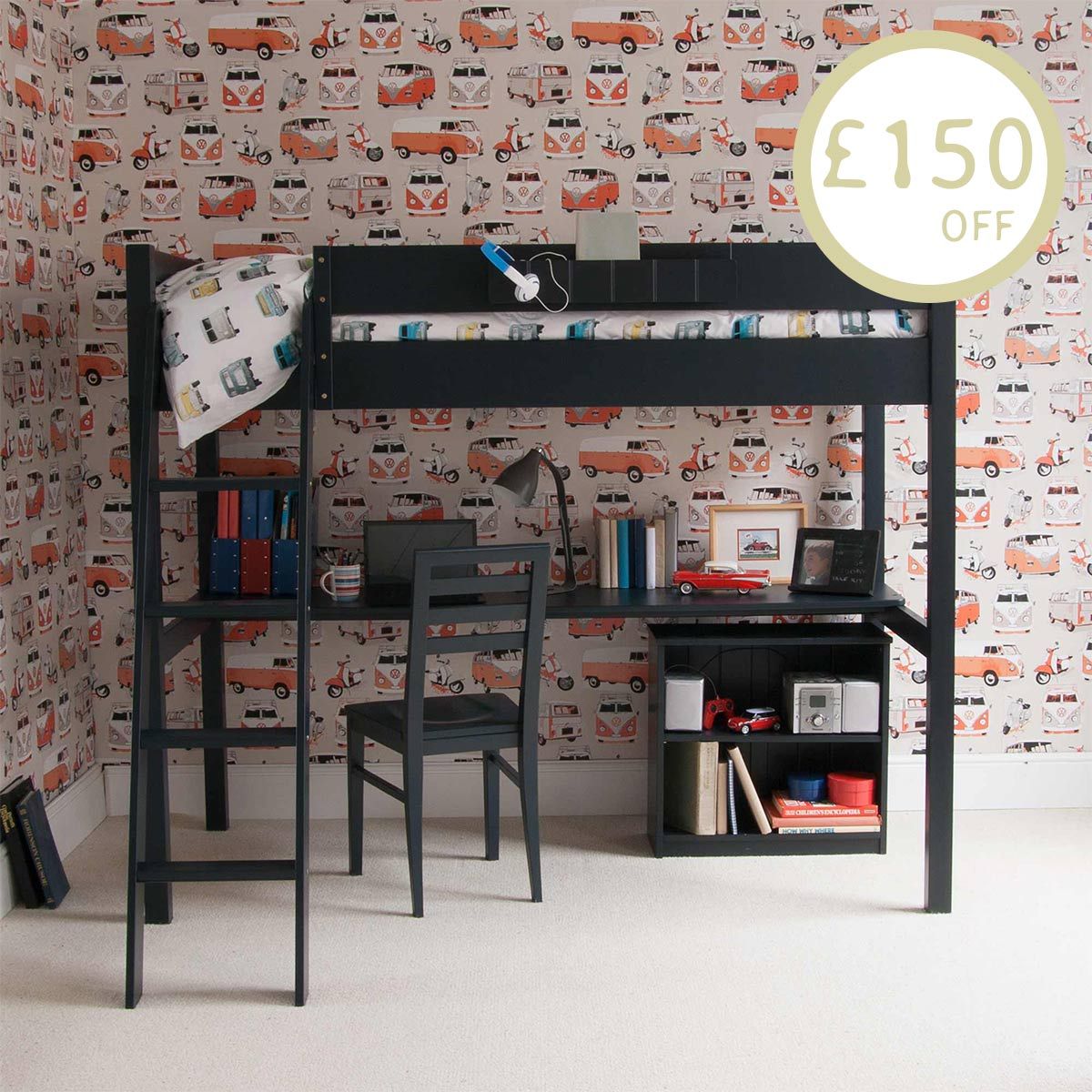 Need more inspiration? Check out our Sale Pinterest Board here, or head over to our Summer Sale page for serious browsing. Our Summer offers are all subject to availability and have limited stock on some lines, so don't hang about!