We have many customers who come to us asking for advice on a first "large" bed for a toddler – whether it's because the child is getting too big for their cot/bed or there's another sibling on the way. Quite rightly parents fear the youngster might be anxious about moving to such a big bed or the risk of "falling out" during the night.
Also there can be concerns about costs – especially if you go down the route of buying a "toddler bed" as an interim solution before moving into a full size single bed. BUT the much more important consideration is about getting a good quality and safe bed and mattress rather than compromising with a half way house.
Think about how long a child spends in bed, how important a good night's sleep is and for development. Investing in a good bed and mattress up front is important.
Toddler Beds
The main "benefits" of toddler beds (as temporary solutions), are that they appear less daunting as they tend to be smaller than a single bed and they tend to incorporate guard rails in some form that help prevent the child rolling out of or falling out of bed. Again the quality/specification of small mattresses available is limited – and comes at exactly the time when you want the most supportive and responsive mattress. For this reason above all other, we tend to advise moving straight to a single size bed and in our experience some careful preparation should overcome any anxiety and actually making the whole project an exciting experience.
First Single Beds
If you are currently deliberating over whether to move your child into their first proper bed, here are some thoughts we've collated together in order to aid your decision making:
1) Safety – Or, more importantly that your little one feels safe and secure. Some parents opt for bed guards that can be "fitted" to the single bed. These come in many shapes and sizes but the most important thing is to check that the rails can be fitted securely to the bed – and so by definition you need to start with a strong and robust bed, they shouldn't undermine the comfort of the bed or mattress – possibly with rails running underneath the mattress, there should be no damage to the bed through the fitting of the safety guards to the bed frame.
Sometimes a row of pillows down the side of the bed or having a trundle bed pulled out alongside is enough for the toddler to feel safe and snug.
2) Height –The heights of single beds can vary and so-called divans tend to be higher. It's wise to select a bed that is not too high off the ground, so that in the event of a fall the child doesn't have very far to go. We advise opting for a single bed that is just high enough off the ground in order to house a trundle underneath, as this will extend the use of the bed in the future, too.
3) Timing – What else is going on in your little one's life? Planning a move into a Big Bed is exciting but can also induce anxiety if not talked about and planned in advance. Having a clear six weeks or so to get them accustomed to a new bed or room before any other home changes is an ideal length of time to get them used to new environments.
4) Make it exciting! Could they get involved with the selection of their new bed, or even give their bed a new name? Perhaps they're having a brand new bedroom too, in which case the move will be even bigger for them. Communicate with your toddler and be sure to explain any unknowns and offer reassurance to them; you'll be surprised at just how much they understand and quickly adapt.
5) Familiarity. - Though bedding for toddler beds is smaller sized than that of single beds, if your toddler is unsure of their new bed, creating some kind of consistency between this bed and their old one is key. Familiar bedding and blankets can really help with this transition and give them comfort in new surroundings for a few weeks.
6) Routine – Try to keep the bedtime routine as similar as possible, so that your child can better cope with the transition.
7) Be prepared! - A few sleepless nights are inevitable during a transitional phase. Something that helps some parents enormously is the comfort of being able to roll out a trundle bed from under their child's bed. This means that the parent can sleep next to the toddler if needed, and sometimes is just there as a back-up just in case, which is often enough!
Making the all-important Which First Bed decision?
The simple answer is that there are no golden rules.
It is as much about what design you like and what you need it to do as any strict definition. It is time to buy a really good mattress too – and since it is going on a single size bed it should serve for a good few years without having to change it.
Also you may have some ideas about getting maximum use out of the bed later. Often this is about adding a trundle which can be used as huge extra storage or a sleepover bed. Many parents find having the sleepover trundle bed from the outset useful as somewhere to bunker down when a child is ill or needs comforting.
So we've been thinking What if your toddler could grow with their bed?
Our designers have been busily crafting a First Bed that's safe, secure, made of solid hardwood, and with built in safety guard rails. It's not too high off the ground, and can come with or without a storage and sleepover trundle. – And the best bit? It converts to a bunk bed for when the time comes, as it simply becomes the top bunk when the bottom bunk and ladder is added!
Let us introduce you to our brand new First Bed to Bunk Bed.
You only need to invest once, buying a Bunk Bed for a life time, which starts off as a First Bed with built-in Guard Rails for as long as is needed. - Better value, better quality, and better for the environment. – No Fast Furniture adding to landfill over here!
Here are the stages of this clever bed:
Stage One: First Bed. Advised age: Toddler+
Close to the ground so easy to get in and out of, with built in safety guard rails to prevent falls. Crafted with a frame made from solid beech so it's built to last, this full size single bed is the perfect height for toddler age and upwards, and can be selected with or without storage and sleepover trundle.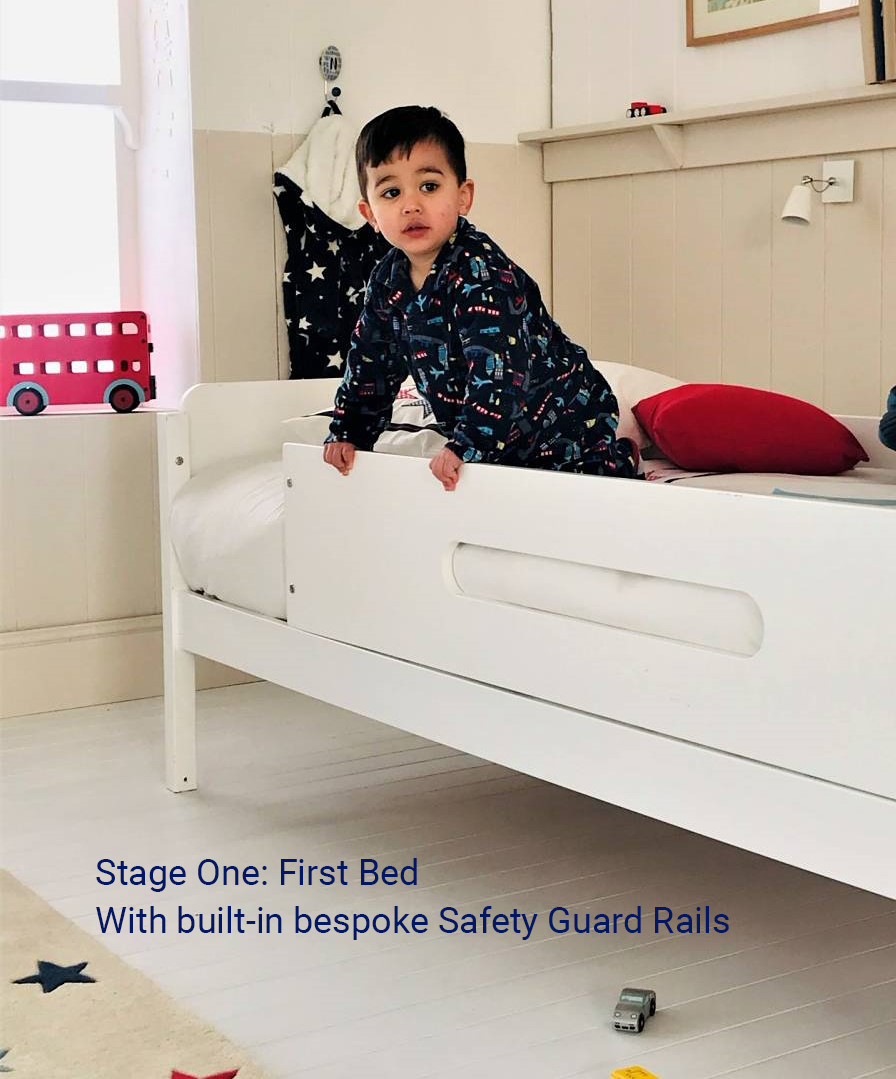 Stage Two: Single bed. Advised age: 3-6
When the child feels ready for the next stage, it is time to convert the first bed into a single bed (or two!) until they're ready for the Bunk Bed phase. This is a very straight forward swap job in terms of assembley, and involves removing the safety rail and swapping a head board for a foot board.
Stage Three: Bunk Bed. Advised age: 6+
For sharing siblings and sleepovers! The ideal candidate for saving space in a child's bedroom, and save even more by popping the same trundle underneath.
Stage Four: 2 x Singles Beds
This stage is ideal for any age child, but aimed at older children and young teens who may want their own bedrooms once the sharing phase is older. Simply dismantle the bunk bed into 2 matching single beds. These twin single beds are also perfect for the guest room, so they really do serve a lifetime of usage!
And there you have it. – Our very first (and rather clever, even if we do say so ourselves), First Bed to Bunk Bed. - Four different bed products all in one, designed to grow with your child for life. No extra fittings needed along the way, simply lots of options all rolled into one!
To find out more about our exciting new product, why not give us a call for advice: 01985 300588