We're celebrating all things red, white and blue here at Little Folks HQ, which incidentally is one of our favourite colour palettes for children's interiors too …
It's a classic combination, that almost always works, in varying proportions and colour ratios. – It's so easy to get right, that it's probably why it has become such a popular and timeless palette. - Perfect for a splash of colour and a great gender neutral idea for shared bedrooms, too.
So here we present you with a little inspiration on how to create your own red, white and blue bedroom for a little refresh with just a hint of royalty!
A Touch of Tartan Tradition
For a statement bedroom design that really pulls the a triple colour scheme together, consider a checked wallpaper. Use it above a dado or picture rail for smaller doses, or for a bigger style statement cover a feature wall from floor to ceiling.
The addition of bold cornflower blue against this plaid wallpaper helps to ground the room, and provides a bold contrast with the bed and furniture. Pick out pops of any highlight colours such as red and grey, and pick them up through selecting various accessories and décor pieces in the same colour throughout the room.
Astronomical Astrology
Perfect for older children with an interest in the night skies, this scheme is a classic red, blue and white design which focusses on navy stars and bold red stripes for a flash of colour. The strong red striped curtains
frame the window beautifully, making it a feature within the room, and the continuing splashes of red throughout the space pull everything together to create a cohesive interior scheme.
The Farleigh Grey Fargo high sleeper bed pops perfectly against the deep blue wallpaper to provide a soft neutral alongside all the strength in colour.
Smartly sophisticated
To create a dramatic statement in a child's larger bedroom, select dark blue beds and furniture, like this bedroom featuring our Painswick Blue Fargo range. Mix and match patterns such as geometric wallpaper and stripes, and add pops of yellow and fun wall stickers to brighten it all up.
Soft and muted vintage
If all the strong hues are a little too much for your own tastes, here is an example of how you can use the same colour scheme in a more muted way. Inspired by a worn vintage palette, soft pastel blues and greys create a serene space along with a biscuit coloured neutral above the dado rail. The hints of dark red add small hints of strong colour, and the engineered oak floor keeps the whole scheme warm against all the powder blue.
Seaside Style
Another age old timeless scheme for children's rooms, is anything seaside or nautical related. This corner is predominantly a combination of different blues, and really illustrates how not everything must match. – Mix up varying shades and tones, and keep the colour palette restricted to help everything tie in together. A warm Caramel colour creates a great contrast with the Teal Blue, and the tiny spots of red, inspired by the buttons on the Futon, add further interest to this lounge area of a child's bedroom.
For a younger, more seaside-y styled variation on the nautical theme, why not choose striped wallpaper in red, white and blue. Fresh, clean and really adaptable, this room featuring our Cubix mid sleeper bed brings a little deckchair delight to otherwise plain white walls. Grey washed floor boards add a little weatherboard effect, and fun accessories such as ship wheels and boats add a little nod to the seas.
Bold and Bright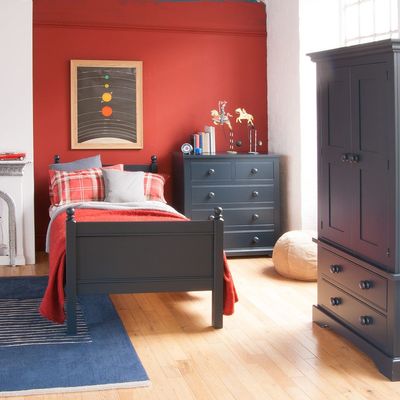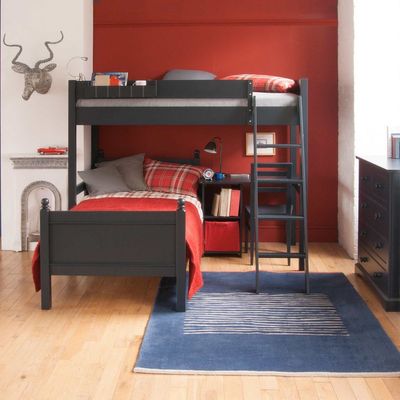 Create a rich, colourful scheme with deep Crimson walls and bold Blue beds and furniture. Featuring our Fargo collection, these rooms exude a timelessness, yet the Red brings a youthful edge, which works so beautifully in contrast with the deep Painswick Blue. When styling with saturated colours like these, it's important to keep other walls and elements fresh by breaking up the space with pure White elements.
Retro Revival
Not only suitable for traditionally decorated bedrooms, red white and blue can also work really well in Retro inspired spaces. Colour-drenched Teal Blue walls allow the white bed and red accessories to really pop in this room. All that's needed on the wall is a fun comic canvas, and the hints of mid century modern style flowing through with the chair, desk, lamp and alarm clock create a low-key nod to the past.
Beautiful Blues
For a different take on Red, White and Blue, try splitting the bedroom walls in half with colour. This helps to add interest to plain walls with no panelling, and gives a room a modern twist. Our Classic mid sleeper in white really pops against the deep Blue walls, and pops of red add some zing to the space too.
A Blank Canvas
Sometimes white walls are the way forward. Especially for those in rented accommodation, or who have darker or more compact bedrooms. White is a way to keep things light and airy and bright in a bedroom. Versatile and quick to change, white walls enable you to add more colour to a space. For example, this Fargo high sleeper bed in Painswick Blue really becomes the centre of attention in this child's room. Add a couple of red blankets and blue vintage plane stickers, and the result is a coordinated scheme that can be easily changed and tweaked over the years. Top tip >> If you know that your child enjoys changing things around in their room, select reversible duvet covers to give them a different look every now and then.
So there you have it, 9 different ways to style with Red, White and Blue!
We hope this has inspired you to create an interior scheme for your own children in this timeless palette… Happy styling x