Let's face it, in today's world with all of their belongings, extra storage is always welcomed in our children's rooms. Whether it's for their latest train collections, clothes or fluffy friends, we have some superb storage bed options that are bound to come to the rescue when it comes to clobbering that clutter!
Here are some handy hints and tips on how to select the best storage beds for your child's room...
Extra storage for small city apartment rooms:
If you have a child who sleeps in a small city apartment bedroom, a mid sleeper cabin bed could well be your storage best friend. Raised a little off the floor to mid height, they're often just tall enough to put an array of furniture below. Not only ideal space saving solutions, mid sleeper beds also fit neatly under attic eaves.
How to create extra space in an attic bedroom:
Attic kids' rooms can be notoriously tricky to furnish, and if your child's attic bedroom has really steep, sloping eaves, then you may be concerned about head height restrictions above their bed. Here's where single beds come in, as they're great for children's rooms with low ceilings. – "But where's the storage?" We hear you cry. Fear not; trundle storage drawers are the answer to the clutter. Storage trundle beds take up exactly the same footprint and floor space as an ordinary single bed, but they have a huge full length and width drawer that can slide in and out from under the bed. – Just imagine how many pieces of Lego you could fit inside! Top tip: Look for beds with trundle storage drawers that have flat bases, as this means that they can be both a drawer AND double up as a sleepover bed for last minute guests (by popping in a trundle mattress). Win, win!
Storage tips for shared bedrooms:
Perhaps you have two children who share a room, so storage and space is tight? Fear not, as you can also find handy bunk beds also with pull out trundle drawers. A bunk bed with storage trundle drawer really is maximising on space, and if they're full width and length drawers, they often have the same capacity as a separate chest of drawers, so one child could own the trundle drawer, and the other the chest in a room.
Creating extra storage space for kids who need desks:
Maybe your child is coming up to serious study times at school, has a rather compact room, with no space for desk, and you'd rather banish the mock test papers from the dining room? A high sleeper bed with full length desk could be your answer. Our Fargo high sleeper bed has a nifty top bunk, coupled with a full size desk underneath. – Plenty of room for studying, reading and writing, plus lots of space under the desk too for extra storage. And if they have study bokos coming out of their ears, opt for a clever high sleeper system with storage desk and chill out futon below. – Because it's just as important to schedule in down time after all of that revision.
Kids bedroom storage ideas for children with lots of books:
Perhaps you have kids who love to read, and have a great library of books for their room, but just nowhere to put them all? Investing in a high quality high sleeper cabin bed with multiple storage units underneath could be the answer to housing all of their favourite tomes. Our Cubix mid sleeper bed features two sets of roomy storage bookcases; perfect for children who just love to read more than one or two bedtime stories before lights out!
Storage for kids with lots of clothes:
If your kids have more clothes than you, then you may be desperately searching for more storage space in which to put them. Perhaps a 'floordrobe' has become their favourite tidying method? Fear not, there is an answer! Opt for a mid sleeper cabin bed with a chest of drawers and storage – The perfect solution for clothes storage, so that your budding fashionista really can fold and clear them away at the end of the day (we can but dream!)
Clever storage for a minimalistic bedroom:
The secret to looking like their toys and clothes haven't taken over the room completely, is a mid sleeper bed with storage. From mid sleeper cabin beds with desks and chests of drawers underneath, to beds with storage bookcases, investing in a bed where all the clutter can be hidden away is key. Opting for a sturdy white mid sleeper cabin bed will create the illusion of minimalism and also a feeling of space.
Storage ideas for sharing siblings with two single beds:
For siblings sharing a room with two single beds, the key to gaining extra storage space is in utilising the space beneath the bed. Opt for a pull out trundle drawer to stash away all of their secret treasures and more.
Extra storage tips for small kids' rooms:
When space is tight, it's often difficult to find the room for bedroom furniture as well as the bed itself. Here are a few ideas to try in order to maximise space in your kids' compact room:
- Opt for a hook on shelf to house all of their bedtime essentials such as drinks, books and lights. This can be used as a replacement for a bedside table, and takes up no extra space at all as it can hook straight on to the bed itself.
- Select a bed with legs so that you can have a storage trundle drawer underneath for all their belongings.
- Consider a mid sleeper bed with multiple storage options underneath, so that the rest of their room is free'd up for play.
- Take a look at high sleepers. These are like bunk beds but with space for furniture underneath instead of another bed. With so many high sleeper beds on the market, there are lots of options with extra storage underneath.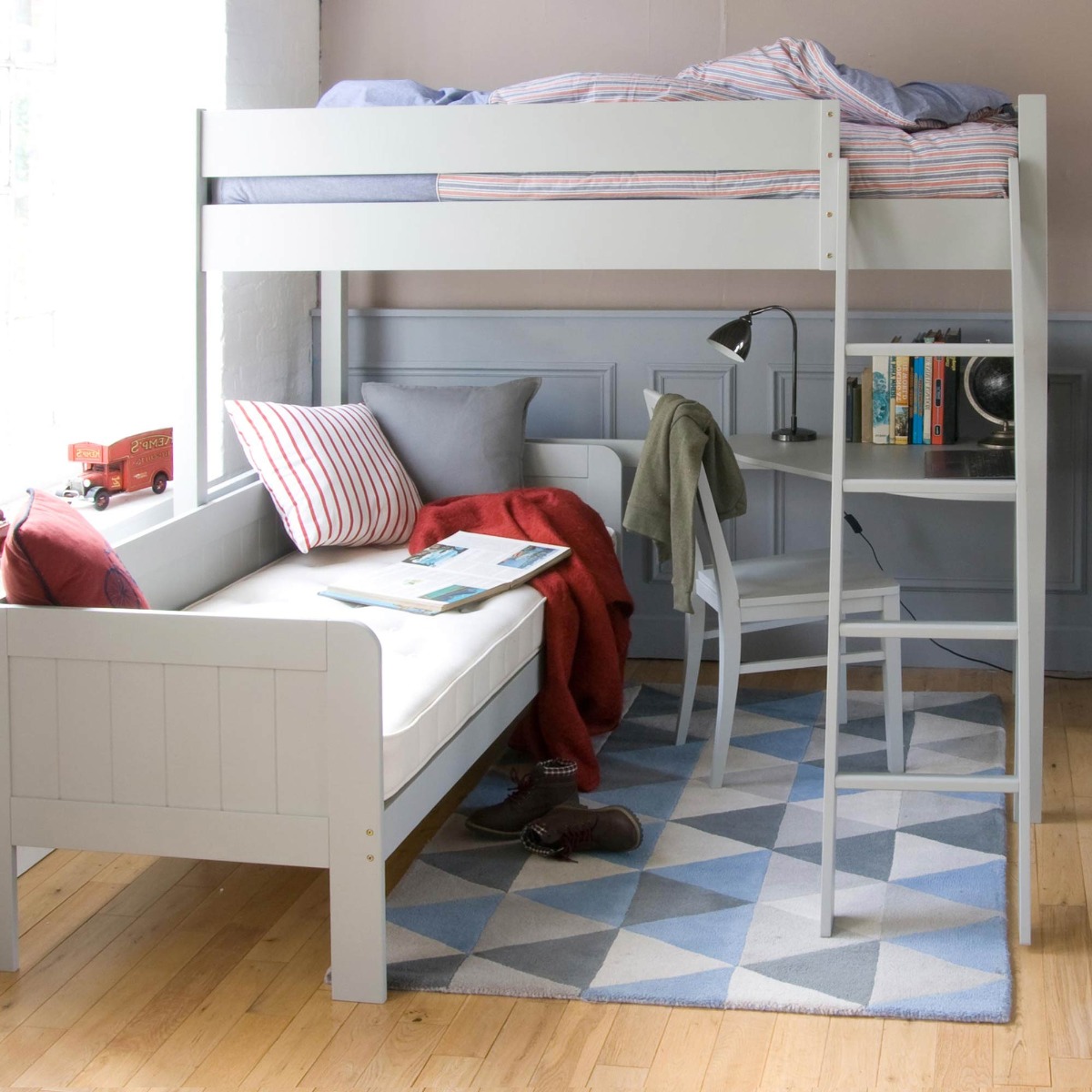 Storage ideas for larger kids' bedrooms:
If your child's room is spacious enough, but you need some advice on kitting it out with storage furniture, it would be a good idea to opt for traditional bedroom furniture, such as large double wardrobes and high chests of drawers. To maximise on the space that they provide, opt for wardrobes with full width hanging at the top and drawers underneath, or tallboy style chests of drawers, that sit higher than the average design.
So there you have it! Lots of ways to gain maximum space in your child's bedroom, no matter the type, there are lots of solutions available!
If you'd like to find out more about ways to gain storage space for your child's room, talk to us about our storage bed options by giving us a call on 01985 300 588.