Boring shared bedrooms begone! Rooms for sharing siblings needn't be cramped, dull or uninspiring. Check out our top tips below for creating the most beautiful shared bedrooms for children.
Double the deck.
Firstly, bunk beds are always a great option for shared rooms, mainly for practical reasons; they provide double the sleep space for just the footprint of a single bed, and often have space underneath them too for storage, if space is tight. Bunks can come in many guises, including whizzy ones with extra storage, versions that sit at 90 degrees to each other, double beds underneath with single lofts on top, as well as those that cleverly divide down into single beds too, so it's worth thinking about what you need their bed to do (apart from the obvious, of course!)
Convertible bunk beds with trundles offer a multitude of ideas when it comes to shared bedrooms. Assemble them stacked for ultimate space saving fun, and free up extra room in their bedroom for playing or storage furniture.
All of our Little Folks Furniture bunk beds have solid hardwood bed frames, making them super sturdy, plus they are all convertible, which means that they'll easily divide down into two separate full size single beds.
Whether their bedroom style is Scandinavian, Traditional or Contemporary, our bunk bed range has something for all tastes. Take a look at our solid hardwood bunk beds here for more inpsiration.
Forget the theme, and embrace a colour scheme.
For sharing brothers and sisters, a gender neutral bedroom colour scheme is key, and it's easier to pull off than it sounds. Here's our lovely Classic Beech bunk bed with clever roll out storage and sleepover trundle; perfect for space saving storage.
For this look, we paired the gorgeously warm Dulux colour of the year Spiced Honey, with a bold gender neutral palette of mustard, black and rust for a playful, contemporary vibe. We used a mixture of prints and accessories for the room, but all were in the same palette of neutrals. - By doing away with a single theme and instead focussing on sticking to one colour palette, you'll find that any items can look amazing in your shared space, as long as they're the right colour. It's where cars, animals and dinosaurs can coexist in true harmony! Of course it's not practical to assume that everything will be in the same palette, so invest in some decent storage in your chosen colour scheme in order to pull the look together
Keep it simple, with colour pops.
Using a white, clean backdrop to their shared bedroom means that you can afford to be ultra funky with the furniture.
Whether it's adding splashes of colour through the furniture itself, or getting paint happy with a brush on those walls, white walls are a great idea for exploring multiple personalities and influences within one room.
For bunk beds that make a colour statement, check out our EDIT bunk bed with red end panels and ladder.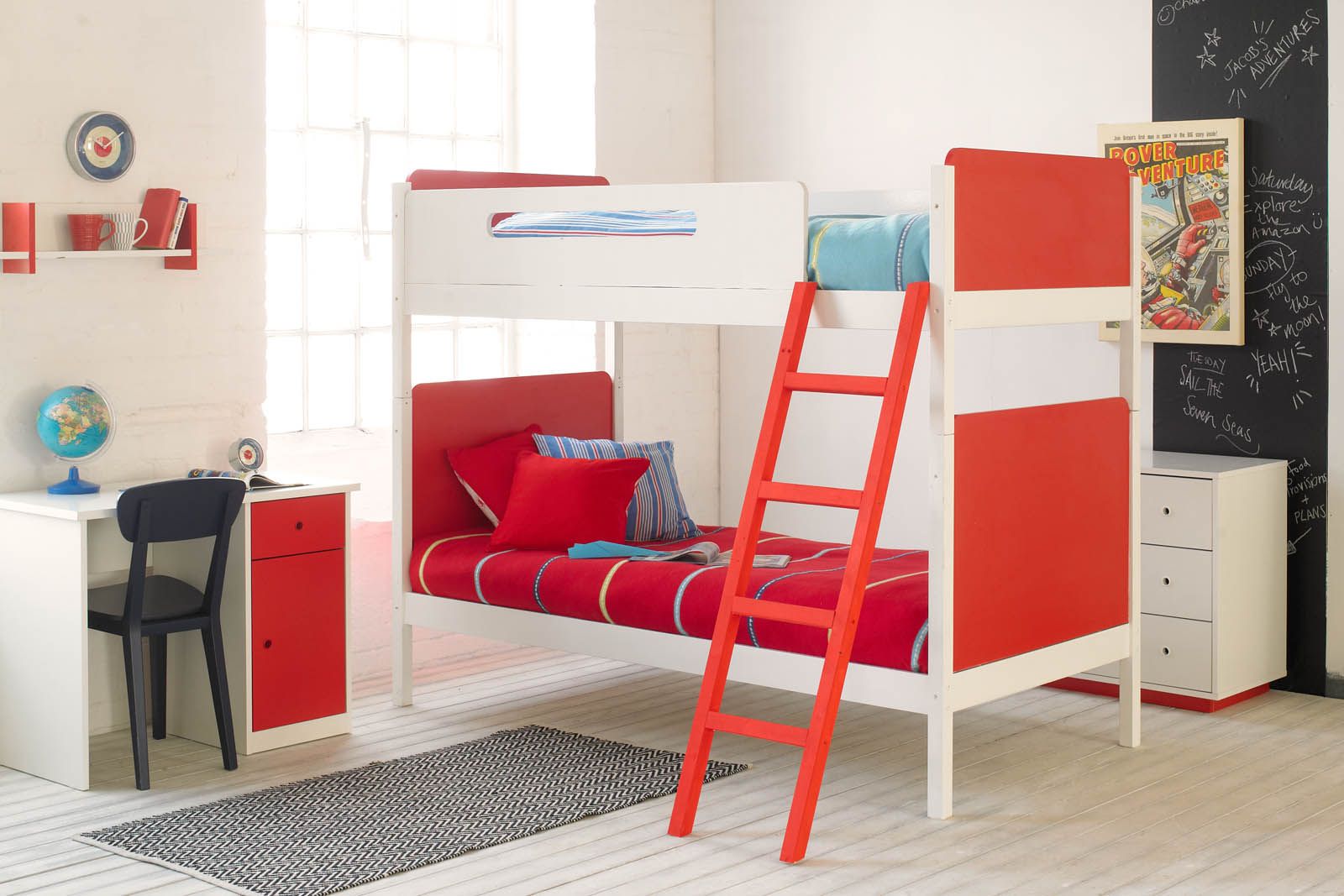 Divide (and conquer!) with clever storage
One of the main challenges in shared rooms, can be having enough space for all their stuff. Storage systems that are secured to the wall can double up as both practical storage and visual space dividers. Our brand new EDIT open storage unit not only looks rather lovely, but it's also a great storage solution for trinkets and toys.
Multifunctional combination wardrobes are equally handy additions, and mean that you can have the best of both hanging and storage drawers for stashing away their stuff. – It's amazing what a smart wardrobe can do for transforming a room! Our Fargo combination wardrobe has full width hanging space inside, with 2 large storage drawers underneath.
Maximise space and personality
If your little ones have a bunk bed or high sleeper bed that they share, try a handy hook on shelf each for storage of their own possessions. It's really important when creating shared bedrooms, that both children feel a sense of identity and ownership of their room, but also that they have designated space for their own belongings.
Another trick is when dividing bunk beds down into single beds, add a storage trundle underneath each bed to extend the storage in their room, and provide them with their own secret drawer.
Lofty living
If you're looking for a bunk bed option that could be useful for the future years when they have their own rooms, or even once they've flown the nest and you need some guest room beds, try our lovely Fargo high sleeper bed with small double bed underneath.
The small double bed that sits at 90 degrees to the top bunk, is pretty useful as a guest bed as well as a child's bed, and with it being totally independent from the high sleeper bed frame, it means that it can be moved around wherever needed. – Including another room completely, which means that you could eventually end up with one child in a high sleeper with lots of space underneath, and the other in a double bed in a different room, just by investing in this one product. Smart, eh?
Happy styling!