More than ever children's bedrooms have become their own living room or sanctuary, designed for sleeping, chilling, lounging and maybe even some homework!
That's why we at Little Folks have been thinking hard about how to get as much as possible out of (or in to) a child's bedroom; starting with a little extra market research from the experience of some of our colleagues being at home with their families for the past four months.
Whether it be storage space or somewhere for the gaming set-up, desk space for homework or crafting, somewhere to put the clothes (because the 'floor-drobe' is now a thing of the past, don't you know), or somewhere to chill out or sleepover – what is clear is that it is about the most effective use of (and at many times compact), space. - And of course, although all these demands are entirely justified, at the end of the day it's all about nurturing your children so that they feel comfortable and safe.
As a team, we keep returning to the High Sleeper concept – otherwise known as Loft beds, Bunk beds with desks or Bunk Beds with "stuff underneath". Essentially it is a single bed frame on stilts, and by being elevated it frees up the space underneath to put "other stuff" in – desks, storage/bookcases, chest of drawers, easy futon chairs, or day beds and sofa beds. By picking specific pieces of furniture you can construct the solution to meet the needs and ultimately create the perfect living room for your child.
Here at Little Folks Furniture, high sleeper beds are a design that we specialise in, and with over 25 years' experience in designing them, we like to think we know a thing or two about how to create the best for your child. So we've been sketching, making and testing away, and are proud to announce our extended range of High Sleepers and with some nifty new tweaks – including a really smart and clever futon chair which turns into a proper sleepover bed (even good enough for parents). As ever the frame is solid hardwood (beech in this case) for a stronger product that will perform for a lot longer; and ever the lifestyle conscious with a range of smart covers and contrasting button detailing.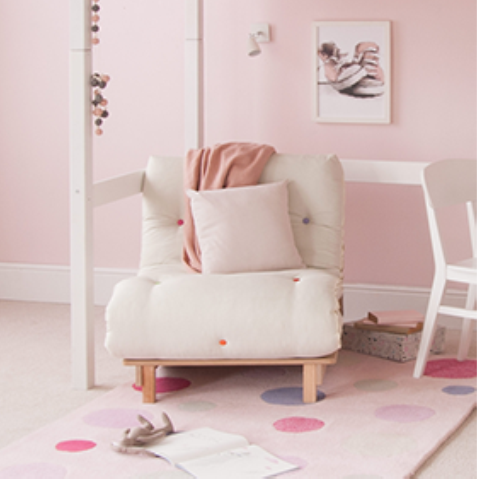 Obviously the main benefit of High Sleepers is that they effectively create more space in the room with which to do other things.
If you are considering a high sleeper then it's worth making a wish list. – Work out what you need for your child's room and prioritise it. Do they need a desk to create a special study space? Perhaps some storage for lots of toys, trinkets and tomes? Or maybe a pull-out futon or day bed for chilling during the day and sleepover for friends, cousins or Mum and Dad during a tough night?
You also should consider whether it is a relatively permanent solution or whether the room might be re-arranged from time to time. Flexibility might be very important – for example moving a futon or sofa bed away from the bed and near a window for extra light, or even into a different room entirely, on occasion.
Some specifications are "built in" to the frame of the bed which has the advantage of being more compact and using less space. Even so our designs will always try and build in reasonable flexibility. For example the built-in storage desks in our Fargo Range can be built at either end, inside or outside the frame, or along the back.
Our Fargo high sleeper range is the benchmark for high sleeper loft beds, where usefulness, design and durability are expertly crafted together. The bed frames and rails are solid hardwoods with mortice and tenon jointing for strength - and for a superior painted finish in our signature colours of Ivory White, Farleigh Grey and Painswick Blue.
Somewhat unique and certainly popular is the idea of putting a full size single or small double proper bed under the high sleeper frame – and so the loft bed is used for sleepovers or a sibling. Even with an adult size single bed underneath there is still room for a storage desk alongside.
Our new loft bed designs are part of our Classic Beech Range; as you would expect, made with solid beech hardwood bed components. What is slightly different is that all the furniture that goes underneath is proper, free-standing furniture that you would expect to find in a bedroom – chest of drawers, storage bookcases, desks and of course our lovely new range of futon chair-beds. So not only can you select exactly what is wanted and needed in the bedroom, but there is the flexibility of moving it around both underneath the loft bed, to other parts of the bedroom, or even to another room entirely!
Our Top Tips on choosing a High Sleeper bed:
ROCK SOLID - Selecting a high quality high sleeper loft bed with a sturdy frame made from hard woods (responsibly sourced of course) means that it will be more likely to stand the test of time, so it's always a good idea to check what materials the high sleeper bed is made from. Pine high sleeper beds tend to be cheaper, and the reason for this is because pine is a soft, knotty wood, and therefore nowhere near as strong and durable as hard woods such as Oak, Ash, Beech and Poplar.
SAFETY – The safety standards for High Sleeper Beds are some of the most rigorous around and unfortunately a lot of claims are made about beds meeting the standards when they probably do not. We'd always advise asking the retailer about the product that you are looking to buy. Asking where they've been made, whether they've been tested, and even who designed them, will equip you with lots of the knowledge you need to make an informed choice for the safety of your child.
Special tip – you will probably need a special, thinner mattress for the loft bed. If you use a thick mattress then it means the "guard rails" that are there to stop the child rolling out of the bed will not be as effective. - So-called "high bed" mattresses are normally about 6" or 15cm thick.
We recommend high sleeper loft bunks for ages 6+ which is as stated in the safety standards. As parents you will know your child best and whether they will feel safe and comfortable tucked up in the top. The likelihood though, is that they'll love sleeping amongst the stars!
To have a browse of our full collection of high sleeper beds, click here.