So for many of us schools are out and it looks like a long road ahead. You've got to try and keep the children safe and comfortable – and also create some structure around, amongst other things, homework tasks and some home learning. Almost certainly a good desk and chair is required and if you think about it the bedroom is going to get a lot of more use. Maybe it's time to re-think the whole room – and if you're all at home you have a "willing" cohort of helpers and decorators!
If it's simply about pinning down some homework and avoiding excuses for not doing it then there are some straightforward solutions. Desks need not be cumbersome and large – in fact all they need to be is rigid (i.e. a strong frame) and provide a decent, flat working area that is at the right height. Better still though if there is a little storage incorporated for stationary, books or even the laptop, but it's size should not dominate the room.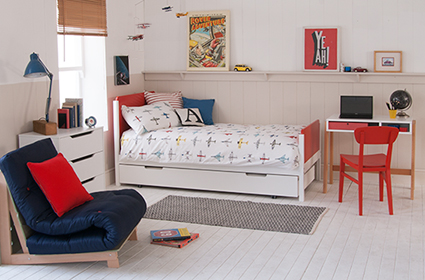 We've designed a couple of thoroughbred desks for the children's bedroom and built for many years' good service. Both have solid hardwood leg frames – frames because these are much stronger than individual legs and will survive a battering. Both have a table height of around 76cm – which references will tell you is an ideal height and even for a growing teenager.
The EDIT desk is refreshingly simple and unobtrusive and has that skandi type of smartness. The top block incorporates some roomy storage space that is big enough for equipment or even an arch lever file. In keeping there is retro design chair – again made out of premium materials so it will last as long as the desk.
EDIT DESK AND RETRO CHAIR
For a more traditional look we have the Fargo Study Desk which is available in a range of classic paint finishes which are equally robust. This has a bookshelf built in in what is normally dead space in the footwell as well as storage space under the desk surface.
FARGO STUDY DESK & LADDERBACK CHAIR IN FARLEIGH GREY
But for most of us it's about maximising the space in the bedroom and which is used for so many things by our ever-so-sophisticated youngsters. And actually that is what we want too. Hence the popularity of raised beds – where the bed frame is on longer legs and the space underneath is used for all sorts of furniture. And in the context of somewhere for that elusive homework to be done there are many designs with work space underneath – and also some chill out space!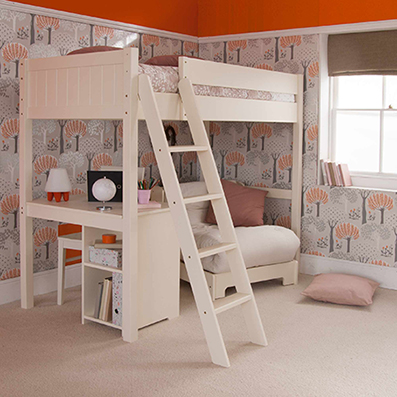 FARGO HIGH SLEEPER LOFT BED WITH FUTON AND STORAGE DESK
For younger "workers" a mid-sleeper system can offer even more flexibility and still with a useful desk for furious colouring in to fantastic play table. Our Cubix Mid Sleeper system has all the furniture on castors and so the room can be endlessly rearranged as needs change.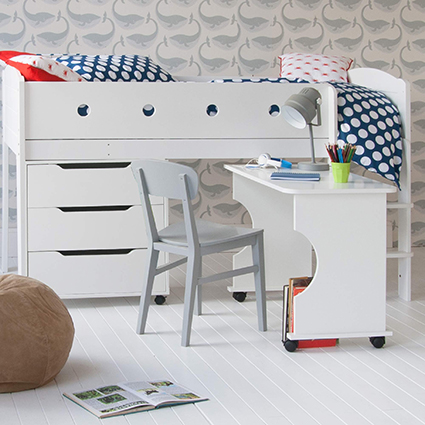 CUBIX MID SLEEPER SYSTEM WITH CHEST AND ROLL OUT DESK
Here's to new projects and creating wonderful spaces for children to work, rest and play.