Wouldn't it be lovely if a tidying up fairy could simply wave a magic wand, and the kids' rooms were all sorted with super-duper storage?
Well, in the absence of a magic fairy, and the presence of all those extra Christmas gifts, we've got a few tricks up our sleeves that'll have their bedrooms fast becoming your favourite room in lockdown (yes, really!)
Bright, airy and inspirational children's rooms that they love to play, sleep and study in are what we all aim for, but it can be tricky to pull off the feeling of space when you have compact bedrooms to deal with.
For compact bedrooms:
Consider the bed height. Loft beds (or high sleepers as they're sometimes called) are like top bunk beds with furniture underneath, thus saving on precious floor space. Fitting into the footprint of a single bed, they're endlessly useful, practical and also stylish. With so many options on the market, we advise writing a list of usage priorities first – eg study, sleepover, chill out space, etc, so that you know the type of furniture your child will need to fit underneath.
Top tip when buying a high sleeper bed: Because of the height of the bed, it is recommended to purchase a specific, (thinner) mattress than that for a regular height bed. These high bed mattresses are designed with safety in mind.
Hide it away:
No one wants vast volumes of plastic toys on display, even in the kids' rooms. By selecting storage units with doors, it'll give the illusion of more space (even if there isn't much). Lighter coloured doors will make a room feel more spacious than darker colours too. Hiding the toys away is also a good way of preparing a child for sleep at night, so it's a double win!
Think vertically:
If there is a single bed in the room, utilise the space on the wall above for storage by hanging a peg rail – perfect for PE kits, hats and other accessories that usually end up on the floor! Floating bookshelves are also a great idea if there isn't floor space for a bookcase.
Multipurpose is your best friend:
Furniture that can have more than one use is always handy. For example, wardrobes needn't just be used for clothes. In fact, combination wardrobes with hanging space/shelves above and drawers underneath lend themselves perfectly to storing spare bedding and blankets, as well as a few trinkets and treasures.
It sounds simple, but selecting a bedside cabinet with a drawer built in to it will offer just that little bit more storage space, and will prevent the bedside from being cluttered with the inevitable bits of paper, conkers and coins.
Don't waste the room under the bed!
Opt for a pull out trundle drawer under their single bed. – Essentially a giant drawer on castors that wheels all the way out. You'll be amazed at just how much stuff can be stashed away.
Top tip – when researching trundles, look for ones that are a bed and drawer in one. –They make really handy sleepover beds when not in use as a drawer!
Blend the walls with the floor
By selecting a similar floor colour to the wall, you'll find that the room automatically looks bigger. Other tricks with colour to make rooms appear bigger than they are, include monochromatic schemes. – Pick one colour and use complementary hues to create a tonal effect in a bedroom.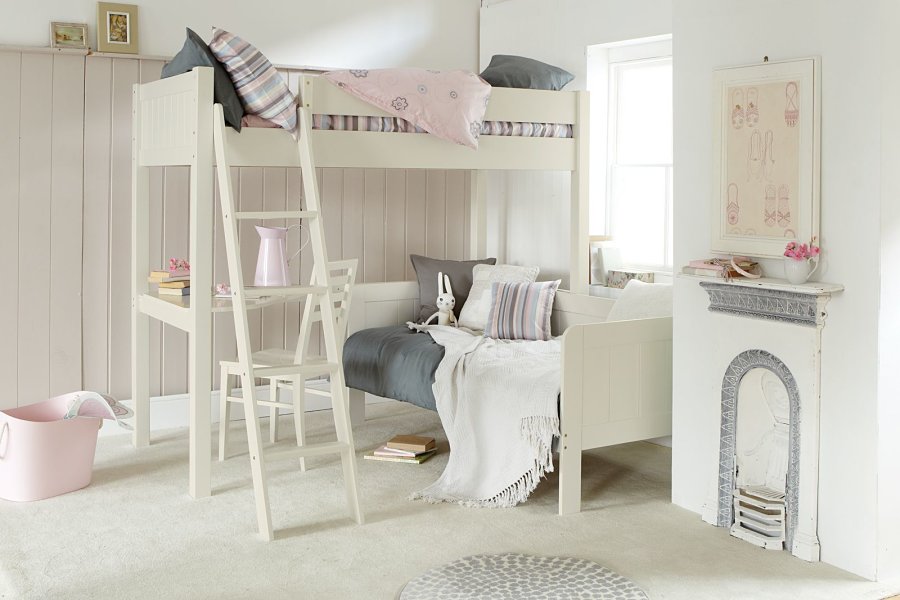 Emphasising verticals by including wall panelling can also create the illusion of more space in a room.
And there you have it – their space will be feeling like a mansion (almost!) in no time at all!