Our Classic Beech bunk bed is a firm favourite with our customers who want a safe and sturdy solid hardwood bunk that also converts easily into two single beds. We interviewed Fiona who bought one of our bunks at the beginning of the year, to find out what she thought after living with the bunk bed for a month now, and how and why they made the decision to opt for this bunk bed for their growing family.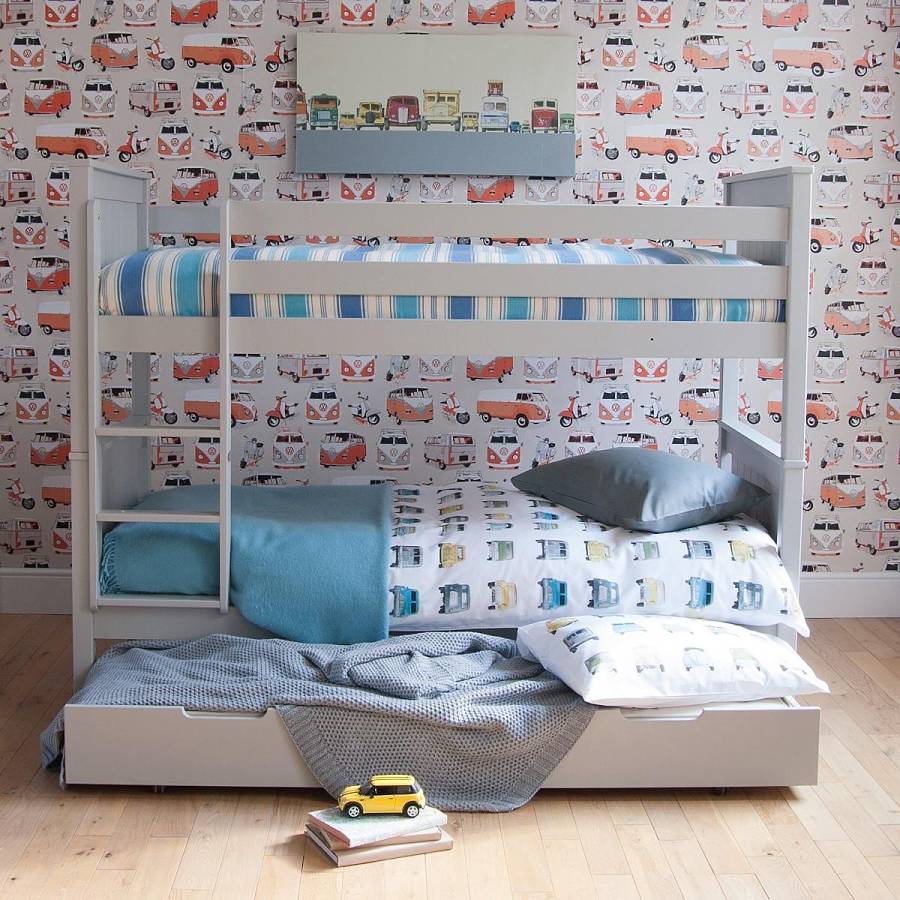 LFF: Thanks so much for purchasing a Little Folks Furniture Classic Beech Bunk bed with storage & sleepover trundle. We'd love to know what made you select this particular bed?
Fiona: Having worked with a lot of Little Folks Furniture products on a professional level, I've been able to see first-hand the superior quality both in terms of timber and build. So, I knew I wanted to invest in a hardwood Little Folks Furniture bed of some sort, but wasn't sure which product option to go for.
My husband and I went around in circles for a while, deliberating over the different bed types, and writing lists of how each could help us as a family.
In the end, we decided that the Classic Beech bunk in grey best suited our needs. Before this, we had been contemplating a Cubix mid sleeper, as this felt a little more suited to a younger child (we have a nearly 3 year old) or even a Fargo high sleeper bed with single bed option underneath, as although we'd only be able to use the bottom single bed for now (due to the age of our child), we knew this had the longevity of being able to be used in multiple bedrooms in years to come.
However, once we found out that our imminent arrival of baby number two was going to be a boy, we decided that bunk beds answered not only our immediate challenges, but also the future too, since the bunk dismantles into two full size adult single beds, and so is perfect for guests at a later stage too.
LFF: What were the initial challenges you needed to resolve?
Fiona: Up until 2 months ago, our toddler had been sleeping in a toddler bed, which was a converted cot bed. Since we needed to convert the bed back to a cot for our second baby, we had to decide how to make the transition from toddler bed to full size single for the older child, but we also needed to consider future plans.
Living in a typical 1930's 3 bedroom semi-detached house means that we have a large second bedroom, but a small third box bedroom, which is really better suited as a nursery or study.
Finding out that we were having another boy meant that the siblings could share for some years in the large second bedroom once the nursery phase was over, and so our decision to opt for a bunk bed over a mid sleeper or high sleeper was made.
LFF: Have you assembled the bunk bed as a whole, or have you just assembled one of the beds for now until you need the rest?
Fiona: Our initial thoughts were to just assemble one of the single beds, and then keep the other bed and ladder in storage until we need them in a few years' time or even to assemble the other bed and have two singles in the bedroom together, however in the end we decided to bite the bullet and assemble the whole lot as a bunk bed in one go. This meant that we had alleviated extra storage space and also extra space in the bedroom. It also means that our son really enjoys all the free space to play in inside his room, rather than always being downstairs in the play room.
Our son (almost 3) isn't much of a climber, and he really loves the enclosed 'den like' feeling of having the underside of the top bunk above him. I guess it's almost like a little sanctuary for him in a way. We wanted to set up as bunks but to stop him climbing we did not completely assemble the ladder, so there are no steps on it for the time being (and therefore no way of getting up to the top bunk). We could assemble the bunks without the ladder steps and the bunks are still rock solid. So far so good, and our son hasn't even attempted to climb up to the top. – He knows and understands that when the time comes, he will be able to sleep at the top, and his little brother will sleep underneath him, but for now he seems pretty happy with his 'big boy' bunk bed.
The lack of treads on the ladder has also paved the way for some interesting imaginative play. – The ladder frame has been a door for a house, ship and space rocket so far (all from his own imagination), and has made a really cute reading nook too!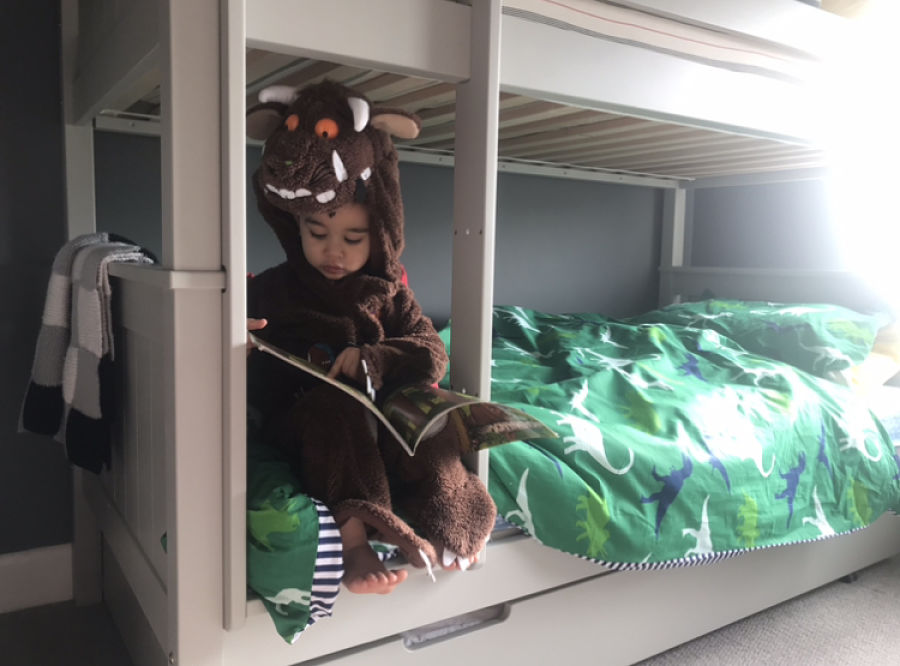 LFF: Have you decided to use the trundle for storage or sleepovers?
Fiona: We bought a trundle mattress, and have used the trundle bed most nights so far over the past month. – A few times when our boy has been unwell and wanted us in the room, and sometimes when he wakes before 6am, we've taken it in turns to go in there and sleep in the trundle, to encourage him to stay in his bed – and it has worked every time! Honestly, the mattress is fantastic and is more comfortable than our own bed! It's so useful to have set up as an extra bed, and before I became a parent myself, I could only perceive its usefulness as a sleepover function for friends and family, however having actually used it and slept on it a fair few times already (even at 8 months pregnant!), it is by far one of the best and most practical purchases we've made in recent times. I'm now a self-confessed trundle bed addict and convert!
LFF: What advice would you offer other parents who are ready to buy the first 'big bed' for their child?
Fiona: Absolutely start thinking about it as far advance as you can, and do some research, Make a list of must-haves, whether that's storage space, sleepover beds, space for one or two siblings to share, colours, materials, etc.
Measure the room and check it again. – It's surprising what you can fit in a child's room, especially when looking at multi-functional beds.
Consider investing in solid hardwood beds, as these are likely to last much longer than softwood pine beds and the cheaper panel products – which most people don't realise is actually cheap chipboard underneath. Buying into the quality of hardwood is also a great way of considering your environmental impact, as you're buying once rather than adding to the waste of the 'Fast Furniture' ethos.
It was really important for us to get this decision right, and for our toddler to fall in love with his new bedroom. – Not only was he moving from a small nursery room into a large double bedroom, but also into a brand new bed, and then a few months later a new brother would be coming along. We needn't have worried though, by starting the process early, talking about it a lot with him, including him in conversations, and showing him photos of how his new bed would look when it arrived, it really helped with this transition.
LFF: Sum up your son's new bunk bed in 3 words…
Solid, Gorgeous and Practical
Some top facts about our Bunk Beds:
Did you know that some of our customers buy our bunks almost as a by-product, and prefer to assemble as two separate twin beds for the first few years, and then build it up into a bunk bed after! - That's what we call forward thinking!

Even the mattress bases on the bunk beds are made from solid hardwood – This means they can easily support an adult sleeping on them as single beds (perfect for the guest room, or ill sleeping in with ill kids!)

You get a better and more durable finished paint effect on hardwoods. This is because the wood isn't soft and so doesn't dent so easily, and you don't have knots. This is why painted Pine often shows knots which bleed through the paint over the years, and is a big reason we prefer to work with higher quality woods.

Bunk beds are a "safety product" and should be designed to meet safety standards. But a lot of the bunks on the market do not meet the standards in full – despite claiming to do so. - We'd always therefore recommend checking and asking the retailer regarding safety standards before buying.
Want to do more research?
Check out our Bunk Buying Guide here.
Happy shopping! x